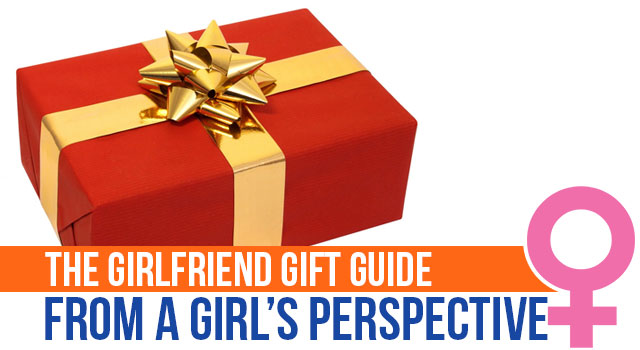 An honest female opinion on what (and what not) to get your girl this year.
Jewelry:
NO:    Kay's Charmed Memories Bracelet. Yes, every kiss begins with K, but so does Kindergarten. Macaroni, glitter, and red spray paint would probably be worn just as often as that bracelet, and it's way cheaper. And while we're at it? Look at the Open Hearts Collection by Jane Seymour. Really, look at it. Those "open hearts" look like butts. Sorry, Dr. Quinn, that's a no.
YES:    Anything from Tiffany and Co. Anything! It's the box. That light blue gorgeous box. And every single friggin' thing you buy there comes in one. I bet that whatever you buy from Tiffany's will be worn more than any other jewelry (other than her engagement ring), the sole purpose being that she can say, "That? Oh, yeah, he got that from Tiffany's." And it's not all too expensive! Tiffany's has pages of stuff for under $250, so at least check out their site before spending the same amount of money somewhere else. And shipping is free!
And if you want to show her your awesome side, get her something from Night Light. This is an international group that rescues girls from sex slavery and teaches them how to run their own jewelry businesses. A worthwhile cause and some beautiful jewelry! Mine gets comments every time I wear it, and then I get to tell the story.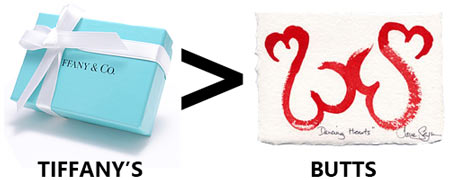 Electronics:
NO:    Anything that's secretly for you: No matter how prettily you wrap that universal remote control, she will see right through you. The same goes for gaming systems, video games, blu-ray players, and an upgraded cable package. If you are getting her some manly electronic, it'd better be because it was the first thing on her list.
YES:     An e-reader: I know tons of girls who love their Kindles. Or Nooks. Or whatever little e-reader thing they have. Me, I'm not an e-person. But if I were to get an electronic gift this Christmas, an e-reader would probably be the only thing on my e-list. Also, sometimes electronics accessories are just as cool as (and way cheaper than) the electronics themselves! So find out what kind of cell phone she has and get her a nifty case for it! Like this - it's Beaker from The Muppets: Beaker
Food:
NO:    A gift card. To any restaurant. 'Nuff said.
YES:    Tell her to dress up, or dress down, or dress cool, and take her some place new. Go to UrbanSpoon and find a restaurant you've never been to before. All the pressure is off because you are just relying on this website's recommendation! So if the food sucks, don't feel bad, make fun of it and end up at Denny's to cut your losses. On a cheaper note, it's hard to go wrong with Lindt Chocolate Truffles. And you can find those in the grocery store!
Clothes:
NO:    A black coat. Everybody already has a black coat. She probably has three. Skip the matching scarf/gloves sets, too. "Matchy-matchy" is no longer cool. And for heaven's sake, if she wanted earmuffs, she would already own them. Also, anything that doesn't fit will never be worn.
YES:     Her own jersey. No, really! NFL.com has these really cute sports jerseys, and if she likes to watch the game with you, she would love to have her own jersey. She likes to be included in your life, and in the things you like to do. She likes to be your buddy as well as your girlfriend! Of course, if she hates football with a fiery passion, it's probably not the best idea. In that case, fuzzy socks are always a hit… as long as they're not the only thing she's getting.
Just make sure the jersey is nothing like this: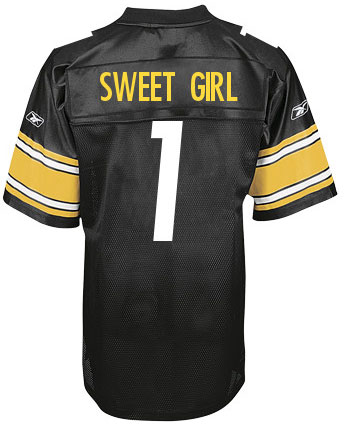 Fun:
NO:    Again, anything that's secretly for you. So whether that's a baseball mitt, tickets to a major sporting event that she hates, or Star Wars digitally re-mastered on blu-ray, she will see right through you! There is a difference between being your buddy and being given a home-brewing kit for Christmas.
YES:    This is the tough part. This is where you really have to know your girl! This is no longer one-size-fits-all. So here's a short list to get the creative juices flowing: tickets to a concert or play, a cute apron, a gift certificate to a nice salon, fancy cooking ingredients, yummy candles, vintage jewelry, something from a friend's Etsy site, new shoes, fancy coffee, a cute end table, her favorite childhood movie on dvd, a happy house plant, Rock 'em, Sock 'em Robots, a new board game, seeds for a garden in the spring, funky salt and pepper shakers, a puppy (just sayin'), nice stationary, a goat for a third-world family through World Vision's Gift Catalog at World Vision, The Hunger Games books, the list goes on and on…
Final Thoughts:
What she really wants for Christmas is to feel special. I've been with my guy for seven years now, and my favorite Christmas gift was given to me seven years ago - a Christmas Ornament of Rudolph and Vixen (it must be Vixen - she has eyelashes) from a kiosk at the mall. It's a tradition now! Every Christmas we get a new ornament, so when we're old and gray, we'll have a tree full!
Merry Christmas, Happy Holidays, and good luck shopping!