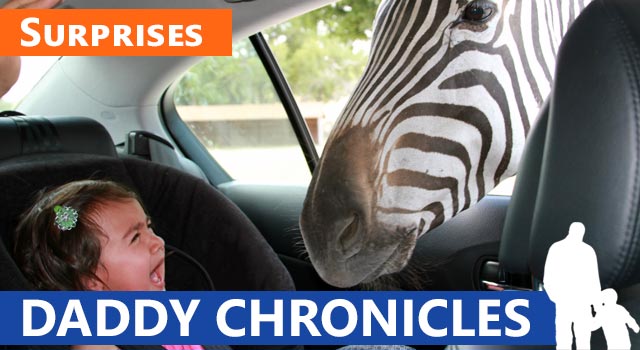 The one thing that I continue to learn about being a Daddy is that every day is a new adventure full of unexpected twists and turns. The other day, my son and I traveled to Ohio to help my mom move out of her house and into an apartment. For the most part he and I had a great time and it was fun t watch him help in his small 4-year-old way.
Halfway through this time of helping and adventuring the story of our day took an unexpected (now funny) twist. We are driving the first load of stuff from one house to the next when MJ screams: "Daddy! I've got to go pee pee!" I politely ask him to hold it and he says: "No! Daddy, it's coming right NOW!!"
I quickly go into search and rescue Daddy mode and I am thinking quickly. I see a McDonalds cup from the morning and quickly make my decision. He's got to pee in this cup I determine to myself. Then a succession of problems pop into my brain: I'm driving; Mommy's not with us; I can't pull over because I'm the middle man in the caravan and I have no idea where I'm going; he's got to pee NOW.
So, I position myself (while driving) to unbuckle his seatbelt. I tell him to stand up and to pee into the cup I will hold in front of him (while driving). I position the cup (not well I might add) and before I can get it right where it needs to be, the flow begins to come!
He pees on my arm, my hand, the seat next to him and the iPad before I can actually get the cup in the right place for him. Thankfully 75% of his bladder actually made it into the cup; the other 25% needed cleaned up and amazingly no iPads were hurt in the process!
I know this story is ludicrous and calling it an adventure may sound to some: asinine, but these are the things that happen to us in #DaddyLife and it may be nuts at times and you might get peed on several times in the lives of your children but let me tell you: it's so WORTH every second of it. When stuff like this happens, we can act like some men who just get pissed off and yell at their kids about it, or we can look at each crazy moment as a fun adventure and a piece of our shared story with our kids. I for one choose the latter.
In fact, I would have had no right to be mad at MJ because the whole scenario was my fault. I didn't make him go pee before we left, I didn't stop and pull over and I didn't whole the dag gone cup close enough. It was certainly a Daddy Fail moment, but we were able to laugh it off, instead of yelling about it.
Men, let's live this Daddy Life to the fullest and make every crazy moment a lifetime adventure!
Check Out The Other Daddy Columns Here:
Intro || You Knocked Her Up || Your Baby At Week One || The Grief Of A Child || Leaving A Legacy