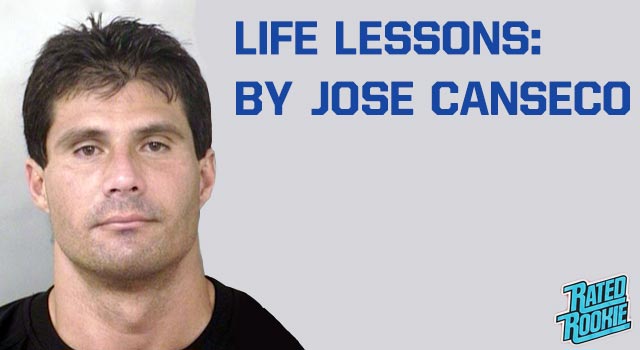 If you don't know who Jose Canseco is, you obviously were not watching baseball in the 80's, or Celebrity Apprentice in 2011. Jose was a Donruss "Rated Rookie" and the other half of the "Bash Brothers" with Mark McGwire. He was actually a good ballplayer, but more importantly he is now the best life coach available on Twitter.
His feed is full of nuggets of wisdom, and we wanted to unleash his knowledge to the masses. So get set for a look into the mind of Jose Canseco and, more importantly, a look into your own very being.
You can follow his Twitter feed @JoseCanseco, but we've brought the best of the bunch to you below.

Good! Finally an independent that someone can vote for. Sorry Ron Paul, the youth of the US are claiming Jose Canseco as their new hero.

How do you get rich? Follow the Canseco way. Win the lottery (and avoid those pesky taxes).

That is the true downfall of society. Down with Adam Sandler!

This is just solid advice. Don't be a Canseco hater...or you'll get slapped.


Ummm....ok, this might not be mathematically or scientifically solid, but I'm taking his word for it.

Oh man...I thought getting slapped by Jose would be bad, but this could be devastating. Don't hate!

It's already too late for Greg Maddux, that hater probably got slapped on that plane.

Huh?  

Yes, yes you do.

I see what you did there, Jose. You complete me, but you also complete ALL of us. Nice.

True. I don't have 400,000 Twitter followers and a twin brother named Ozzie. Point, Canseco.

We can't back you up on this one, Jose. This is as scientifically solid as your extinction quote.

So there you have it, your new life strategy by Jose Canseco: love the environment, don't die, play the lottery, and don't hate on Jose - or you'll get slapped, hater.