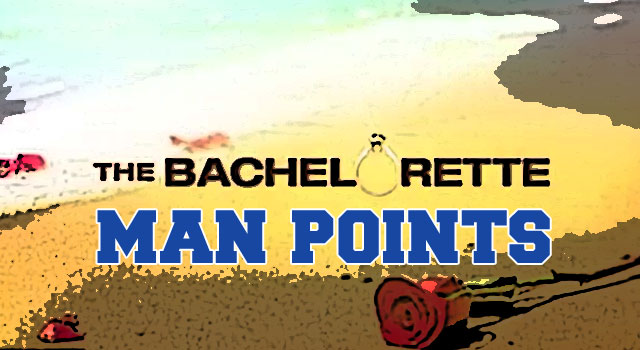 One of the great things about The Bachelorette for the typical guy viewer out there is the depiction of the struggle that we all experience in a new relationship. On the one hand, we want to be romantic and sweet in front of the woman whose affections we want, while at the same time knowing that if our friends witnessed our behavior, we'd have a hard time not being jeered. This is one of the male rights of passage, and we have all been on both sides of the story.
The Bachelorette contestants experience this struggle, but they do so on national TV. We applaud these men for their bravery, but that doesn't excuse them from this male ritual. Therefore, from the male circle of Bro Council, the time has come to award/take away man card points via a live episode blog of the hometown dates.
For those of you unfamiliar with the show, the Bachelorette goes to the hometowns of the final four contestants to spend a day with each of them and to meet their families. Here is our recap of how much manhood they have left after this:
Bachelor #1: Chris – Hometown: Chicago, Illinois
Potential Man Points Activities: An afternoon at Wrigley, Some form of beer/meat at a meal
His Choice: Non-descript restaurant – Points: 0
Time With Family: Dad is Polish. (+1 – I am Polish, and Polish men are manly); Touting miniature wine glass at dinner (-1); Hosted a Polish festival on his deck (+1 – the Polish rule, as clearly established); Dropped the "L" bomb. Serious man points. (+1)
Net: +2
Bachelor #2: Jef (with one "f")– Hometown: St. George, Utah
Potential Man Points Activities: Hiking, Scaling a Rock Face
His Choice: 4-wheeling in a futuristic vehicle, Clay Pigeon Shooting (+4)
Time With Family: Emily touts his skinny jeans. I know it's style, but I can't condone it more than a pair of wide leg, boot cut jeans (-1); Read her his plane writings about his feelings on a mountain top. (+1 for the location and the required hiking, +1 for the mention of sports in his writing, -1 for using a paisley blanket)
Net: +4
Bachelor #3: Arie – Hometown: Scottsdale, Arizona
Potential Man Points Activities: Snake wrangling, Showing her his gym
His Choice: Driving his Indy Car (+3)
Time With Family: Red blanket picnic (-1); Dad looks like Eric Camden from 7th Heaven (+1)
Net: +3
Bachelor #4: Sean - Hometown: Dallas, Texas
Potential Man Points Activities: Bull Riding, Eating Steak
His Choice: Brought 2 rather large dogs (+2), followed it up by holding the flowers that Emily picked in a meadow – real men carry flowers (+1)
Time With Family: Played a joke that he lived at home with parents in messy room (-1); Rocked the Chuck Taylors, then showed them off as he ran after the car as Emily left (+2)
Net: +4
According to Bro Council Man Point Math, this means that Chris should be going home. As it turns out, this was Emily's logic.
If we've learned one lesson tonight, it's that fast cars, clay pigeon shooting, and Chuck Taylors woo the hearts of women. But did we really need two hours to learn that?