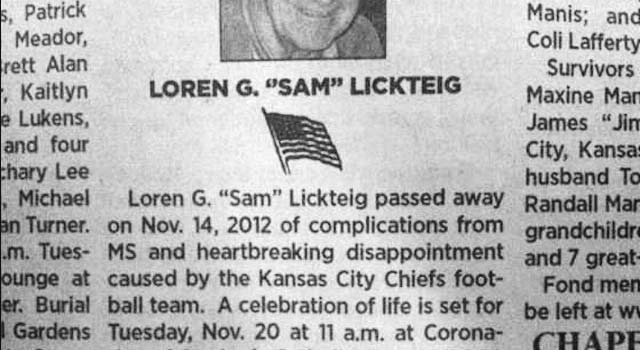 A longtime fan of the Kansas City Chiefs named Loren "Sam" Lickteig passed away last week. He was 81 and suffered from MS, but that wasn't the official cause of death in his obituary. If you believe what was written in the Kansas City Star, then the local police should start an investigation into Scott Pioli and Matt Cassel for manslaughter.
The obituary reads:
Loren G. "Sam" Lickteig passed away on Nov. 14, 2012 of complications from MS and heartbreaking disappointment caused by the Kansas City Chiefs football team.
According to the guestbook, it seems to be the kind of humor that Mr. Lickteig was known for. We at Bro Council appreciate and respect that, and our writers that are based in Pittsburgh are already working up their obituary jabs at the Pittsburgh Pirates in response.
We offer our condolences to the Lickteig family, as well as a thank you to Sam himself as he was a veteran of the US Air force. Thank you for your service, and your sense of humor Sam.
You can check out the obituary online, and we just have to point out one of the postings that someone left on the guestbook.

Merriam-Webster defines "decent" as : fairly good : ADEQUATE, SATISFACTORY. I don't know if "Patsy" was being passive-aggressive or she just misspoke, but either way she just called Mr. Lickteig's surviving kin "very adequate." Not the most ringing of endorsements, Patsy. You might want to edit that.