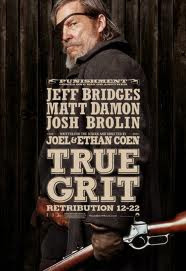 I am not one who is a fan of remakes, but the Cohen Brothers nailed this one. This week's Bro Council Movie of the Week is "True Grit." You can't take anything away from John Wayne in the original, but Jeff Bridges in the starring role as "Rooster Cogburn" is outstanding. The one liners of dialogue he delivers are priceless. You also add in co-star Matt Damon and supporting roles by Josh Brolin, and Barry Pepper (honestly until the credits rolled I had no idea that was him under that make up) and you have an excellent cast and an upgrade to the acting in the original.
Western movies aren't nearly as popular as they once were, but since the winter is finally hitting us, take a snowy weekend and watch both the original John Wayne version and this remake. Both of these are Bro Council, Approved movies. Oh, and they are also newly available on Netflix. Score.
Bro Fact: The original True Grit was John Wayne's only Oscar win (for Best Actor In A Leading Role). He was nominated two other times, once as a producer for "The Alamo" and once as the Best Actor for Sands of Iwo Jima.