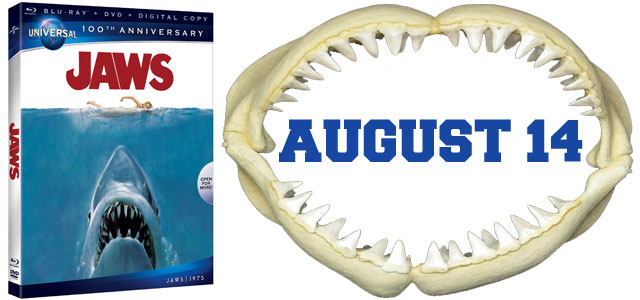 Academy Award Winner Steven Spielberg's 1975 summer classic is coming to Blu-ray for the first time on August 14th. It's more than just a "digitally remastered" version though. It's fully restored to celebrate the 100th Anniversary of Universal Films. Normally, Jaws on Blu-Ray wouldn't be that big of a deal, but the process that they went through to restore it is pretty amazing. Take a look at this before and after shot of an original negative from the film:

That's pretty good for a single frame, but remember...they had over 175,000 frames to fix. And some fixes took 3-4 hours for a single frame. Take a look at the clip below that shows the process of how they restored the movie. It's a great look into the dedication and process behind the restoration.
Jaws will be available on Blu-ray Combo Pack with DVD, Digital Copy, UltraViolet and over 4 hours of bonus features including an all-new documentary "The Shark is Still Working."