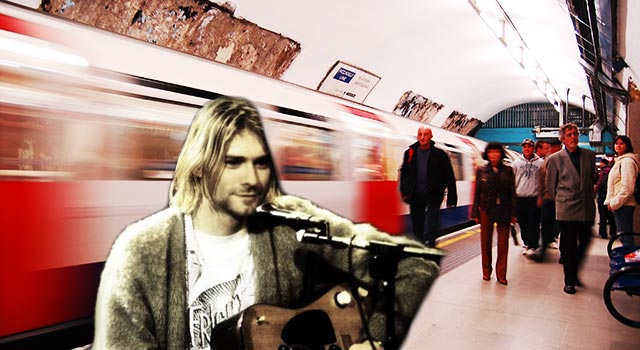 If you like Kurt Cobain or Nirvana, you should go to Russia. Based simply on this one video, I'm 100% sure that every Russian who rides the subway there sounds exactly like Cobain.
Even if Russians don't all sound like him, this guy would still be worth the trip. Take a listen to this subway performer playing Nirvana's classic Pennyroyal Tea. If you're not familiar with the song, it was written by Cobain in 1990 in an Olympia, Washington, apartment he shared with Nirvana drummer (and Foo Fighters icon) Dave Grohl. "Dave and I were screwing around on a 4-track," said Cobain, "and I wrote that song in about thirty seconds. And I sat down for like half-an-hour and wrote the lyrics and then we recorded it."
It was due to be released as the third single from Nirvana's last album, but after Cobain's death the song was scrapped.
Check out the subway cover version in the video below.