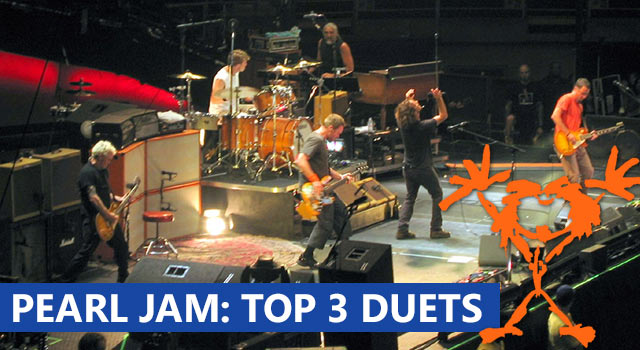 We're just going to say it and get it out of the way, Pearl Jam is the best rock band of the last twenty years*. A reader sent us a link to Eddie Vedder performing a duet with Tom Petty and it was awesome*, so we started looking up some other duets they've done. After watching countless videos we found our favorites*, and the best Chilean cover singer of Eddie Vedder ever*. Also, we know Pearl Jam is more than just Eddie Vedder, but two of the three we picked are just him*. So watch the videos below and feel free to call us idiots for picking the wrong ones in the comment boxes. Enjoy!
Without further ado, here are the top three* Pearl Jam duets:
*In Our Opinion
---
3) Eddie Vedder and Tom Petty - The Waiting
July 3, 2006 - Pepsi Center - Denver, CO
Tom Petty and Eddie Vedder are only number three on this list? Yep. But don't let that take away from the awesomeness of this song. Fact: the Waiting made it to #1 on the Billboard Rock chart in 1981. This song is over 30 years old, and still awesome.
---
2) Eddie Vedder and Jack Johnson - Constellations
June 14, 2008 - Bonnaroo Music Festival, Manchester TN
Although Pearl Jam is probably best known for their hard rock and grunge styles, they have a lot of low key songs on their albums. The range of Eddie Vedder is awesome, and this duet with Jack Johnson shows that. Check out the smooth stylings of Eddie Vedder and Jack Johnson in this video from Bonnaroo 2008.
---
1) Pearl Jam and U2 - Keep On Rockin' In A Free World
2010 - Hyde Park - London, England
Pearl Jam teamed up with U2 at this concert in London in 2010. Why is this awesome? It's U2 and Pearl Jam. It's really that simple. If you've never seen either of these bands live check them out. And also notice the contrast between the two. While U2 generally builds sets that look like spaceships, take 4 days to put together with almost 300 people, and cost upwards of a billion dollars (est.), Pearl Jam is a different animal.
That picture you see at the beginning of this article is their stage. Yep, it's that bare. It looks like you're watching a show at a local club with a giant stage. I've seen both bands live, and they're both impressive in their own right. Putting them together? Classic.
---
BONUS
Wow, that's all I have to say about this clip. It's from a TV show in Chile called "Mi Nombre Es", which translates to "this guy sounds exactly like Eddie Vedder." It's dead on, and I don't think the guy even speaks English. There are some other clips available too, but the fact that his audition song was "Yellow Ledbetter" is awesome in its own right. If you don't know the lesser known Pearl Jam songs, the guy does Yellow Ledbetter justice by mumbling in parts. That's how Eddie does it. Enjoy!