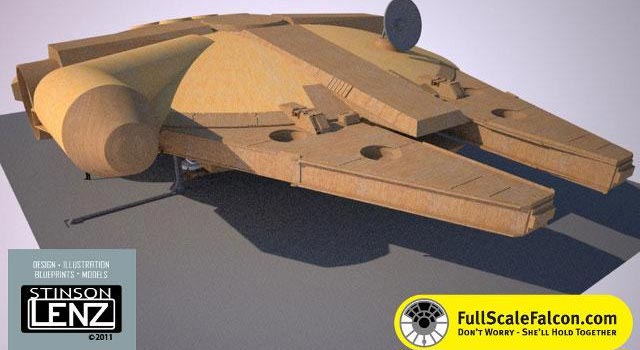 So what is the coolest ship or vehicle from the Star Wars world? The Millennium Falcon of course! We have seen toys and LEGO building sets of this classic vehicle for years now, but unfortunately they can't compare to this new build of the iconic ship. Well, that is unless LEGO decides to release a 114 ft long and 30 feet high 1:1 replica of the greatest smuggling ship the galaxy far far away has ever seen. Then they might be on to something.
Chris Lee is the mastermind behind this death star sized project, and yes it's big enough that the construction site will eventually be viewable on Google Maps. Once completed it will be full-size and 100% accurate inside and out. Chris and his crew have spent many hours already in construction but also many more in research on the design and size thanks to a fan and replica enthusiast who put together blueprints. Unfortunately, construction won't make the Kessel Run in 12 parsecs, but Chris is estimating the build to take 5-7 years using these specs:
Length: 114 feet

Beam (docking ring to docking ring): 81.485 feet

Height to top of body (not counting quad-laser turret): 24.878 feet

Height to top of dish: 30.889 feet

Clearance: ground to landing gear bay level: 7.779 feet

Clearance: ground to outside bottom of cockpit tube: 13.081 feet
So we can debate all day on who shot first (it was Han by the way), but can we agree that this is the coolest Star Wars build ever? Head on over to his site to check out the progress of the build, and pitch in to help with costs by buying a t-shirt at fullscalefalcon.com.
We applaud Chris and his crew for the enthusiasm in undertaking this project, and look forward to seeing the completed product. And if Chris needs a Chewie to his Han, or even a cocky kid from Tatooine to man the turret, give us a call here at Bro Council.
Take a look at some Bro Council, Approved pictures of the build so far below: