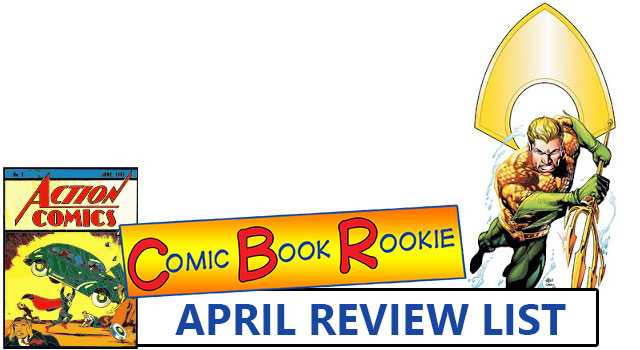 It's time again for another installment of the Comic Book Rookie! Sorry about taking March off, the reasons were two-fold: 1) I had some kind of monkey pox, SARS, or Ebola the last week when I usually write these up, and 2) the only thing of note in March was the merciful ending of the title TALON from DC Comics. What started out with such great presence was soon tossed from writer to writer and quickly went down hill. The last 4 issues were unreadable. Now in April we have a lot of new titles #1 issues and some others that you need to check out. So let's get started:

First we have a new title from Boom Comics called Dead Letters, which starts out with our lead character waking up bandaged in a fleabag motel. He has no memory of anything, even of his name, only a hand gun and a phone call telling him there are armed thugs on their way. Sam must use all his cunning to figure out who he is, how he got here, and what he is doing in the middle of a gang war. This is THE new title you can't miss this month. I only hope this title can keep up the action and intrigue in future issues.
THE ROOKIE'S VERDICT: Get this. Today.

DC launched a second Aquaman title this month, Aquaman and the Others. Early on in Geoff Johns tenure of writing the character he introduced a loose knit crew of heroes that worked with the King of Atlantis. The fact that they got their own title was a bit of a surprise since Aquaman has always been considered a second-tier hero. His popularity rose with Johns at the helm.
This series picks up with each member of the group powered by Altantean artifacts and someone is after them all. OK, granted it's not a great storyline to start with, but I will give them the benefit of the doubt that this is a going to take an issue or two to really set. I will read until then, but for now I will hold off recommending you add this title to your subscription list.
THE ROOKIE'S VERDICT: It could be good, but we'll have to see.
Being a Batman fan-boy, I couldn't wait until this month. Back in the fall, DC released a Batsgiving picture with loads of Easter eggs for the new weekly title Batman Eternal. Sure, there are a handful of other titles with the Dark Knight, so why another one? Two reasons: 1) this is a weekly instead of a monthly, and 2) it will have revolving writers, and some of DC's best at the helm. Batman's main writer, Scott Snyder, has discussed at length the huge changes this year to Batman's world.
James Tynion IV will start things off with a tale of Commissioner Gordon being arrested and our hero trying to figure out who set him up. James also brought the fan-favorite Stephanie Brown character back in the story with an origin tale for her. Tim Drake is also expected to be written in as well. Meanwhile, Ray Fawkes will be bringing Batwing and using his experience to highlight the horror story sides of Gotham. Tim Seeley's time will focus on Batgirl and John Layman will concentrate on Gotham's villains. So far in its first month, it has proven to be worthy of your time and subscription.
THE ROOKIE'S VERDICT: It's Batman! Get it!
Also there are a few other new books you can check out that might be worth your time, but for now they are wait and see titles:
Flash Gordon #1
Hero Bear and the Kid #1
Rai #1
Thanks for reading, and we'll see you next month! In the meantime, feel free to check out our past issues here.