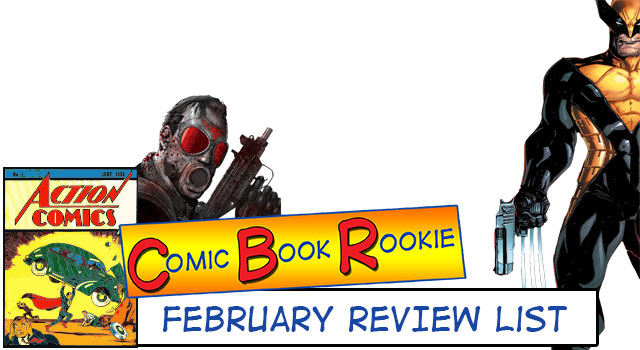 Welcome to another month of the Comic Book Rookie review. It was quite a busy month with a lot of new #1 issues and story arcs, so I picked out some of the most popular to sort through. Find out if these are the issues you do not want to miss below.

First off is a brand new title from Image Comics released just this week: Revenge.
Meet Griffin Franks, an aging actor whose star character in a movie franchise was a vigilante called the Revenger. Franks has his acting career resurrected by a movie reboot, but suddenly finds that his character will have a younger son who takes over for him the in the sequel. What happens next is a series of back-stabbing that leaves Griffin in Mexico City after having his face and finger prints peeled off in a ploy to take all of his wealth. Griffin decides his only choice is to assume his role as The Revenger to get payback of his own. Even though it didn't get a lot of great reviews, I'm giving this my "at least try this" thumbs up. This may turn out to be a dud after all, but I'm reserving judgment for another 2-3 issues.
Though as a disclaimer, I can not stress enough that when they say MATURE READERS they are not joking; this issue was filled with loads of swearing, blood, violence and sex.

Next up is Wolverine #1. I have talked in detail about how DC Comics rebooted themselves with the "New 52," and now Marvel is following suit over the next few months. Well, kinda.
Instead of starting over from scratch they decided to give everyone a jumping-off point. To be honest, when I read and saw a few other issues I was not impressed with them at all. The writing and the art are not matching up with the great films that Marvel has been releasing. With all of their box office success, they should be delivering really solid books, and instead we have a Captain America which was one of the worst I have ever seen and this issue of Wolverine that was just OK. And that's being kind.
Logan has lost his healing powers and is now wielding a gun as you can see on the cover. This isn't the Wolverine we have grown to love over the years, and I give this a firm "this isn't that good" thumbs ugh.

One title that Marvel did do well this month is a retro look at what is about to become your new favorite villain; Winter Soldier.
In this issue, we go back all the way back to the 1960's to reveal some of what (*spoiler alert*) Bucky was up to for all those years after being in the hands of Soviet doctors, and after the missions he played a part in during the Cold War era (*spoiler alert over*).
This is a mini-series, and won't tie in to the movie that comes out next month but I still give it a "worth your time" thumbs up.

Finally, we have our favorite digital comic out there in Knuckleheads. Issue #5 brings us back to the diner, and our crystal-handed hero is facing off with some thugs who are robbing the place. There's only one problem; someone has lost their powers? And just who are the men in black we meet with the issue's closure?
As usual, quick wit and sarcasm are packed into this fun title. This issue is worth it just for Trev's wallet (you'll see). If you haven't read it yet, pick it up now and catch up before they launch what promises to be a sarcasm-filled new story arc with our favorite slacker. I give this a full "two knuckles" thumbs up.
Thanks for reading, and we'll see you next month! In the meantime, feel free to check out our past issues here.