The new Star Wars is coming out in 2015, but if you just can't wait for the new release, now you can see a battle between the Rebel Alliance and the Dark Side in Toledo, Ohio this weekend. The ECHL's Toledo Walleye minor league hockey team is having a Star Wars Night on November 2, and they will be wearing X-Wing Pilot-themed jerseys with the visiting Kalamazoo Wings donning "Darth Vader"-themed jerseys. Awesome.
Plus, the jerseys will be auctioned off after the game with the proceeds from the Walleye jerseys going to the National MS Society, and Kalamazoo's jerseys benefiting the Wounded Warrior Project.
If that's not enough, they also have this on the list of activities:
Fans are encouraged to come in their best Star Wars outfits and prizes will be awarded to the best costume
Special Star Wars-themed dining options to include Chewbacca Bacon Burger, Jedi Juice, Yoda Soda, and more
Star Wars-themed video board elements and sounds will be taking place throughout the game
Star Wars characters - including Chewbacca, Stormtroopers, Biker Scouts, Tusken Raiders, Clones and Jedi - will be available for fan photos on the main concourse
Jedi Juice sounds....weird. But Yoda Soda should definitely be marketed nationwide.
As a special bonus, the Stanley Cup will be there. And we can't help but post a picture of the Walleye's mascot with the cup: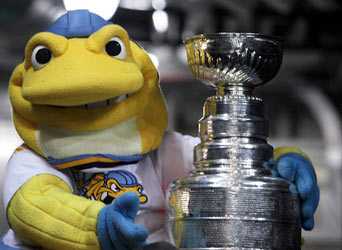 That's pretty much the coolest looking Muppet ever. If you live in Toledo, you can buy tickets here. Just make sure you send us some pictures.