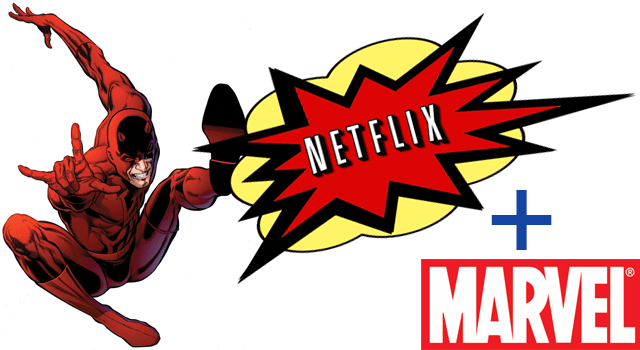 Huge news for Marvel comics fans yesterday, as it was announced that Netflix will be the home to 4 new exclusive Marvel series and one mini-series coming in 2015 and 2016. The shows will star Marvel characters Jessica Jones, Luke Cage, Iron Fist, and, the biggest of the names, Daredevil. It's been no secret that the Daredevil feature film was Stan Lee's least favorite of all Marvel properties, so this will give the studio a chance to redeem themselves on the classic superhero. The series will come together in an Avengers style mini-series called The Defenders. There isn't a lot of info yet on the details, but this new information but Alan Fine, President of Marvel Entertainment, had this to say in the press release:
This deal is unparalleled in its scope and size, and reinforces our commitment to deliver Marvel's brand, content and characters across all platforms of storytelling. Netflix offers an incredible platform for the kind of rich storytelling that is Marvel's specialty. This serialized epic expands the narrative possibilities of on-demand television and gives fans the flexibility to immerse themselves how and when they want in what's sure to be a thrilling and engaging adventure.
Netflix Chief Content Officer Ted Sarandos also had a few things to say and was obviously happy about the news, saying "we're thrilled to be working with Disney and Marvel to take our brand of television to new levels with a creative project of this magnitude."
Could this be Marvel's way into the small screen since DC is ramping up their presence with the Flash to compliment their hit series Arrow? On a side note (and long shot) fans should check out Kevin Smith's podcast Fat Man on Batman. Smith recently hosted the godfather of Batman series writing, Paul Dini, in an episode, and they kicked around the idea of a new show about a young Bruce Wayne off at boarding school. It's seriously brilliant folks. If they don't make this, it has to be come a comic at the very least.
For now we have some great news about several new Marvel series. And luckily for viewers, Ben Affleck somehow found a way to play Batman, so he won't be available to screw this series up.
Source: newsarama