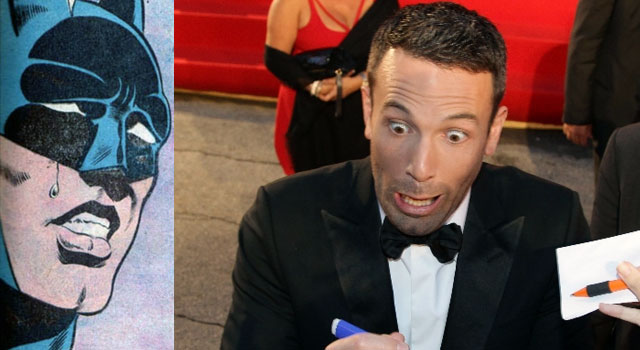 A few weeks ago we reported that Warner Bros. had announced they would be casting a new actor to play Batman in the sequel to the Superman movie Man of Steel. Now, it's official; Ben Affleck has been cast to play Batman.
Yes, that's the same guy who destroyed the Daredevil character, but he did a great job in Argo so, well, there's that at least. We're pretty confused by the choice here, but we remember how people thought that Heath Ledger as The Joker was a horrible choice, and we all know how amazing he was in that role. Hopefully Affleck surprises us as well, but we can say one thing for sure; at least it wasn't Ryan Reynolds.
The reaction around the web was almost universally negative, and there's even a White House petition to remove Affleck as Batman, which will go over about as well as the one to get a Death Star built. And yes, Twitter went nuts when this was announced, so we decided to take a look at the top responses from everyone's favorite place to rant about what irks them.
So without further ado, check out the Top 10 Tweets about Ben Affleck as Batman:
This guy #betterbatmanthanbenaffleckpic.twitter.com/gV6nu8WPdR

— Josh (@YungRatchet_) August 23, 2013
can't believe they cast a rich white guy to play batman

— Andy Levy (@andylevy) August 23, 2013
In the new Ben Affleck version, the Batmobile is just a beige Prius

— Eliza Bayne (@ElizaBayne) August 23, 2013
Oh please, why not just cast J Lo as Catwoman, too, and REALLY torpedo the whole thing.

— Stephen Whitty (@StephenWhitty) August 23, 2013
In the Ben Affleck version, Batman's parents kill themselves.

— Chase Mitchell (@ChaseMit) August 23, 2013
I *sense* Ben Affleck might not be Twitter's first choice.

— Sarah (@sbl76) August 23, 2013
Ben Affleck may not be the Batman you want, but he is the Batman you deserve.

— Captain Cinema (@TatteredFedora) August 23, 2013
The new Batman pic.twitter.com/antMaPWNkS

— Lisa Way (@Lisawaay) August 23, 2013
I don't even think Tebow is going to make third-string Batman.

— Matt Goldich (@MattGoldich) August 23, 2013
i wonder who the new batman is

— shael (@5hael) August 23, 2013