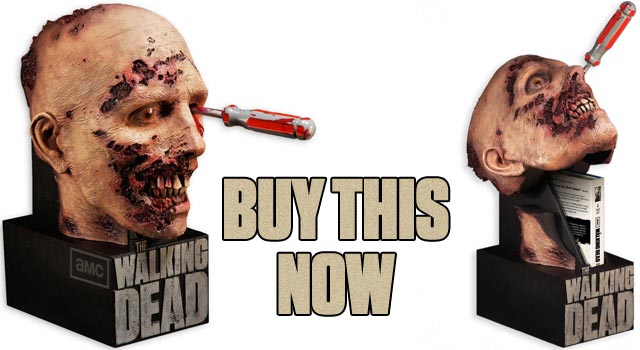 Walking Dead Season 3 is coming upon us soon. What better way to celebrate than by picking up the Season 2 Blu-Ray and re-watching it? Oh yeah...there is a better way. You can pick up the deluxe edition and watch it with your very own zombie head.
Anchor Bay Home Entertainment is releasing Season 2 on August 28, and they went all out. The limited edition zombie head cases were designed by McFarlane Toys, the toy makers of choice for all serious comic book fans.
Season 2 picks up right after the first seasons finale, and find Rick Grimes - the valiant former police officer - leading a group of survivors through the zombie apocalypse. If you haven't seen the series, start now. It's awesome.
Anchor Bay two version of the Blu-Ray set available: a regular four-disc set and the limited edition version. But if you hurry, the limited edition set is on-sale and only $15 more. Is it worth it for the zombie head? Yes.
The Blu-Ray set will have the following features:
All thirteen Season Two episodes in the original 1.78:1 broadcast aspect ratio
7.1 Dolby TrueHD audio tracks
Behind-the-scenes footage and making-of featurettes
Audio commentaries on selected episodes
The Walking Dead: The Complete Second Season will be released on August 28th. Check out the trailer below, and go! Order the Blu Ray Set Here.