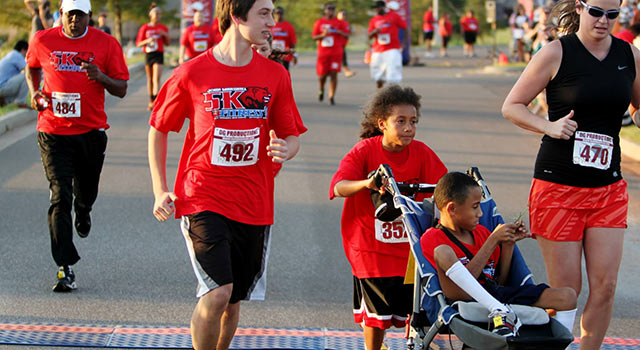 There were a lot of things happening in the sporting world over the past week, but none of them may be as important as the story of a 10-year old Oklahoma City boy who wanted to help his brother run in a 5K race with him.
Tobias Bass contacted Oklahoma's News 9 station to ask them if they could reach out to their viewers to see if anyone had a jogger stroller he could borrow so that he could help his older brother, who has Cerebral Palsy, run a race with him. Tobias told the station that he wants his brother to experience what everyone else can, and we love the heart on this kid.
You can check out the news story here, but be prepared to fight back some "allergies" as you watch:
Pretty amazing, right? And the great news is that someone donated a jogger pusher to the family. Tobias and Titus finished the race, and now they'll be able to enter many more together. If you're not choking up already, take a look at the letter that Tobias originally sent to the TV station below.
It's great to read stories like this to start your day, right?