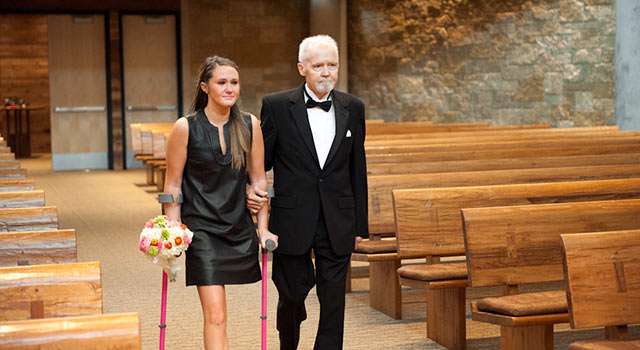 Fred Evans is a father to two daughters, and had a lung transplant over the summer. During recovery, doctors discovered that his skin cancer had spread and he only had a few months to live. Evans decided that he wanted to do what all fathers should be able to do, and walk his daughters down the aisle to give them his blessing for marriage.
Fred and wife Karla planned a surprise wedding ceremony for their daughters Kate and Gracie. All the daughters knew was that there was something special planned at the chapel, and they came at separate times. After each daughter arrived, Fred told them that he gave them his blessing for their future marriage in case he was not there when the wedding day happened. Both daughters cried, and they walked down the aisle to a song that he picked out for each of them.
After the daughters had their own personal moments, Fred surprised his wife with a trip down the aisle of their own, and they renewed their wedding vows.
Fred Evans passed away July 25, 2013 and his two daughters were unmarried, but they will always have that special moment and the special picture album that you can see below. Just be warned, you may need some Kleenex.