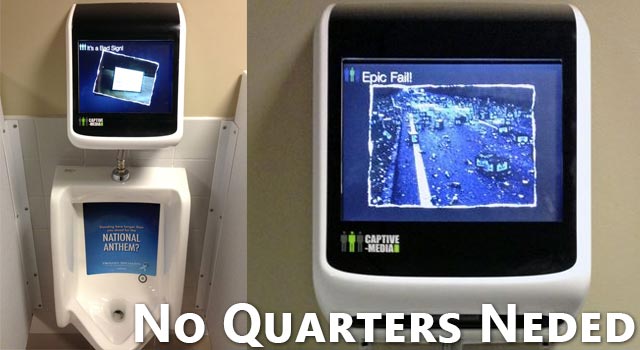 It's just days away form the start of the 2013 baseball season, and it's the minor leagues making the news again. Usually the minor leagues always have some unusual promotions or outrageous food options they are providing up their sleeve for publicity, but this time it's not either one of those. And it starts in the bathroom.
The Lehigh Valley IronPigs have installed an LCD screen system above each urinal in their men's restrooms. When a guy approaches it, the screen goes into auto-detect and turns on the gaming mode to which the patron will aim left or right to control the game. This ain't your father's video game system! We're calling it now: there will be spills. So if you're at an IronPigs home game this year get ready to point and laugh. Here's the original info for you travelers and a video of the game in action:
The Lehigh Valley IronPigs tapped a British company to install the system in men's restrooms at Coca-Cola Park.

The team said Tuesday that Coca-Cola Park will be the first sports venue in the world to feature the gaming system. It'll be ready by opening day next week.

IronPigs General Manager Kurt Landes says he didn't want to flush away a golden opportunity to entertain fans. He says the games are "sure to make a huge splash."
[Source - Yahoo!]