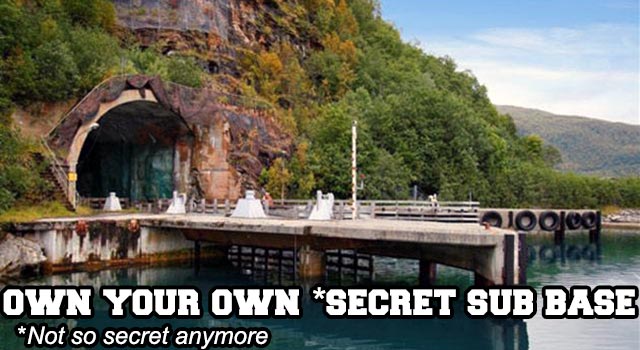 A couple of weeks ago I saw a story about the US Navy selling off a stealth ship at auction. That ship was said to be the inspiration for the one in the James Bond movie Tomorrow Never Dies. Since I have such a love for all-things-Bond, I thought it would be an awesome new location for the Bro Council Headquarters. Plus, it could double as an an office and host incredible Bro Council parties. Then I see this today on Yahoo Real Estate:
The Royal Norwegian Navy has put up a secret, mountainside submarine base for sale... and judging by what it looks like, it would work both as a superhero hideout and as a supervillain lair.
Officially called the Olavsvern Naval Base, the North Atlantic Treaty Organization (NATO) spent $494 million building it back in 1967.
But don't let that amount deter you from dreaming about owning this clandestine base, superheroes- and supervillains-wannabe: the Navy is selling it for the low, low price of $17.3 million.
Why have the boat when we can have a full mountain-side sub base? We can house many boats there. Plus, it's Norway so maybe I could find a Scandinavian wife. And it's Europe so I'm sure even their health care has got to be better than what they give me at Bro Council.
Check out some pictures at the source link below.
[Source - Yahoo Real Estate]