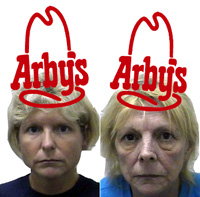 I bet that print of a Jr. Roast Beef with a side of curly fries would have looked great above their Amish fireplace, even the electric ones in their trailer too.
Seriously though, I'm going to have a whole new outlook of fast food art now. That stuff's in demand.
Women Accused of Arby's Art Theft??
(Editor's Note: I'd like to point out that Pat did not get censored in this article. Congratulations Pat!)