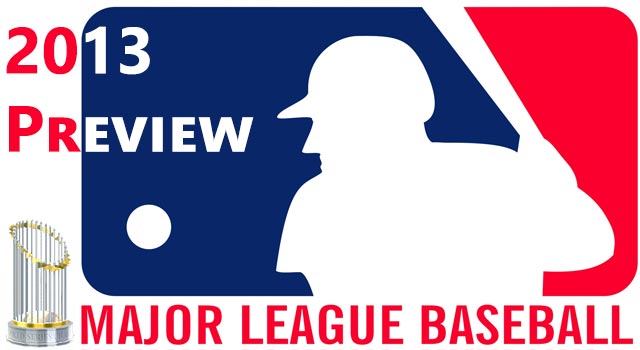 Welcome to Bro Council's 2013 MLB preview! This looks to be a crazy year in baseball, simply because teams that have been dominant for so long figure not to be, and teams that have been quiet for years look to be some of the best on paper. When looking at who could move on to the postseason at the end of year, you get the feeling that most teams could be eliminated well before September. We decided to feature just the two best teams in each league, and pick a winner.
It's scary to look at the rosters of a few of the NL teams. If I had to pick two to be in the NLCS in October they would be:
Los Angeles decided to go all in this year, with the second highest payroll in the league, and one of the highest ever at $218M. The rotation alone is terrifying with multiple Cy Young winners Clayton Kershaw and Zach Greinke, but adding in the always strong Josh Beckett. The lineup as well features stars at almost every position in Matt Kemp, Carl Crawford, Adrian Gonzalez, Hanley Ramirez and Andre Ethier. This team could be one of the best ever, but (and that's a huge but), this could just as easily blow up in their face. This team, while stacked with talent, has so many distinct and possibly cancerous personalities, that I could just as easily see them fail to win games on a regular basis, much like the Miami Marlins last year.
Another team just loaded with talent is the Washington Nationals, one the league's biggest surprises from last year. They return arguably the league's best pitcher in Stephen Strasburg (he's already 1-0 on the season, pitching 7 innings of 3 hit ball on Monday), one of the game's most exciting young players in Bryce Harper ( 2 home runs on Opening Day) and about 23 other guys that make for one of the most complete rosters ever. The rotation includes Gio Gonzalez, Dan Haren, Jordan Zimmerman...all great pitchers.
The ALCS I'm predicting is the same one I did last year, and for good reason:
Last year I mentioned that Angels OF prospect was a phenomenal talent and the most Major League ready prospect in baseball. I said within 2 years he COULD be a 30/30 guy...I was way off. Mike Trout had arguably the greatest season in Major League history last year, even as a rookie! Trout only hit .326 with 30 home runs, 49 stolen bases and more. He lost out on the MVP, only because Miguel Cabrera of the Tigers had the league's first Triple Crown in 40 years. A newer, but still relatively unknown, stat in baseball is known as WAR, or Wins Above Replacement. This stat basically measures how many wins a player can contribute to his team over the average replacement level player a team could use. Trout turned in a year of 10.9 wins, which by itself means nothing, but compared to the fact that that number has only been reached four times since 1975 and only five times since 1957 speaks volumes as to how amazing his season was. Add the amazing talents of Albert Pujols, Josh Hamilton and a strong rotation leads me to believe that the Angels should be competing for the American League pennant along with:
The Detroit Tigers were my prediction last year to win it all, and they fell a few games short. My prediction of American League champion was correct, and I feel the same this year. Any team that can throw out the one of the top 2 pitchers in Justin Verlander (Strasburg being the other) instantly is a contender. Add in the league's reigning MVP Miguel Cabrera and his Triple Crown season (.330 average, 44 home runs, 139 RBI) and you have the two best players in the Majors right now...a pretty scary thought. There are a few other guys on the roster that are some of the best at their position, but nothing compared to the last two AL MVP's!
My World Series prediction for this year is similar to last year:
The Tigers winning it all over the Nationals...easily the two best teams on paper. I would like to point out some of my predictions came true last year, including one of the player awards (pretty hard to pick!) Detroit, St. Louis, Cincinnati and Texas had me guessing 40% of the teams, and I correctly picked TB Pitcher David Price as the league's Cy Young. With that being said, you should probably expect a Tigers championship this year. Right?
Check back next week for my weekly sports recap - and if you have any questions, let me know in the comments below or you can contact me here.