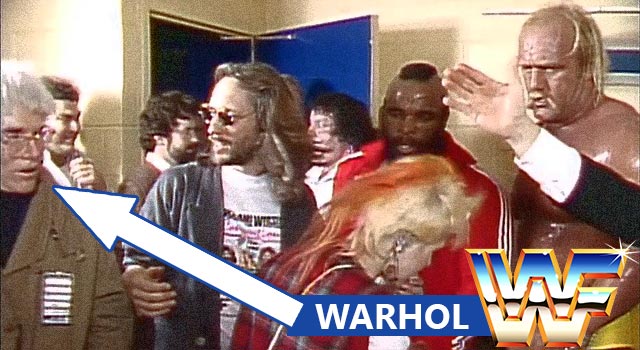 Andy Warhol was a well known and sometimes controversial artist, and the WWE is a well known and sometimes controversial wrestling organization. Because of that, the fact that Warhol liked WWE (AKA the WWF as it was known as at the time) shouldn't come as a surprise.
One awkward moment came at The War to Settle the Score, which was an event that the WWE and MTV aired together in 1985. In the main event, Hulk Hogan battled "Rowdy" Roddy Piper and was preparing for the "battle" with then-popular celebrities like Cyndi Lauper, Mr. T., and apparently Andy Warhol too.
Warhol had walked into the room by mistake, and ended up doing an awkward one minute interview that made him a WWE Superstar for the shortest time since Jeff Jarrett's last run with the company.
By interview, we mean that he just mumbled responses to Mean Gene Okerlund like "I just don't know what to say" and "I'm speechless." And now you get to relive that classic minute of television below. Enjoy!