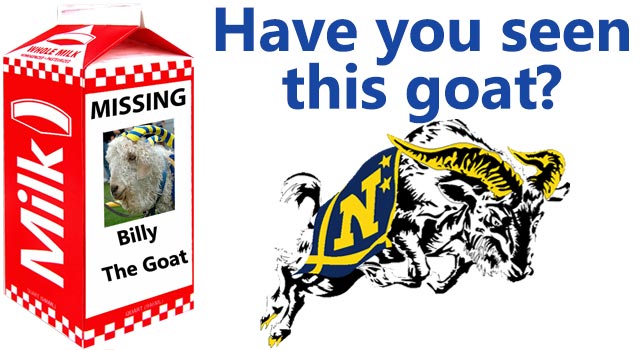 One of the greatest things about being a college football fan are the rivalries, and this Saturday the greatest one of them all take place. Every December the young men of our Army and Naval Service Academies face each other for the Commander in Chief's trophy which is awarded to each season's winner of the college football series between the United States Military Academy (Army Black Knights), the United States Naval Academy (Navy Midshipmen), and United States Air Force Academy (Air Force Falcons).
One of the great parts of the rivalry is the pranks that the service academies pull on each other each year. Take for instance how one of the goats housed at Sunrise Farms near Fort Meade Maryland ended up tied to a median on Army Navy Drive in Arlington, VA outside the Pentagon. No one is claiming any official knowledge, but it's believed that soldiers were behind it.
Pranks aside folks, watch this game! It's not filled with future NFL stars, but with young men who love the game and love our country. They play not for the glory days of the schools where Heisman's and National Championships are being won, but for each other and for this game. When you watch please take a moment to remember that the young men who play in this game will be our future leaders, and also remember those who played and made the ultimate sacrifice.
And with that, GO NAVY! BEAT ARMY!!!!
[Source - Navy Times]