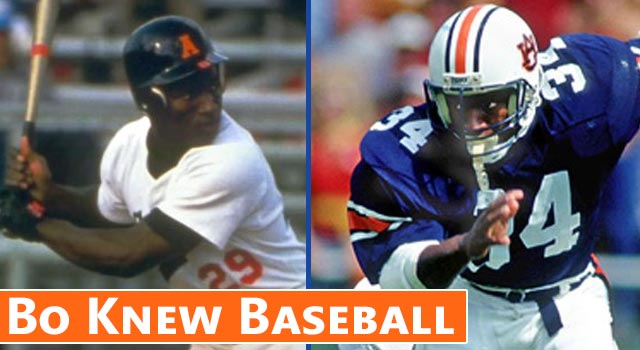 If you couldn't already tell, we really like Bo Jackson here at Bro Council. The man was a superstar in both baseball and football in the 80's and early 90's, and if it wasn't for a horrific hip injury he may still be putting up 1,000+ yard seasons for the Raiders. OK, that's probably not true for two reasons:
He probably would have stopped with the 1,000 yard seasons by age 45 and he's now 50.
The Raiders would have traded him for a 6th round draft choice and a pack of gum sometime during the Al Davis regime.
What could have been if Bo decided to focus only on baseball? We'll never know for sure of course, but this scouting report from 1985 helps shed some light on what kind of potential the then 23-year-old Bo had in the sport.
A Kansas City Royals scout named Ken Gonzales put together this report while Bo was still at Auburn. Now, thanks to Reddit, it has re-appeared online. We love the internet. Here are some of our favorite parts:
-A gifted athlete; the best pure athlete in America today.

-Forget about him in 1985 but there is hope in 1986. Can win the Heisman Trophy next year and Auburn has changed their offense to the I formation so he can run the ball 40 times a game next fall.

-He has to like this game to be playing it now and I'm a firm believer that he is liking it more and more each year and doesn't like the thought of getting beat on for a lifetime (football) and a longer possible career in baseball.
Check out the full report below.