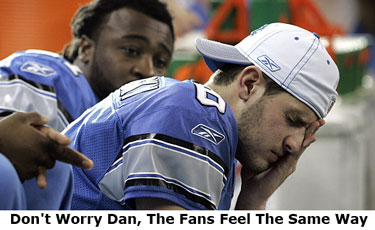 In the news that every fan in Indianapolis has been searching for, their veteran Quarterback is back!
Dan Orlovsky just got re-signed after being cut in the pre-season. That should finally bring some stability back to the position after they lost that Peyton guy potentially for the year.
Also, if you want more updates about the Colts you should follow Jim Irsay's Twitter account here. Plus, you get the added bonus that even though he's a 52 year old owner of an NFL team most of his Tweets sound like he's a teenage boy. Here are a few examples:
"Any one under 21 is a baby and must go ni nigh NOW!!!!!!!!!!!""
"Dog tired boss...dog tired...SHUT IT DOWN!!!!!!!!!!!"
"Eat,drink and be merry...4 2morrow we die!!!!!"
And my favorite...
"It's friday nite n the sh@t is so hot I'm wearin' spongebob gloves!!!!!!!!"

Now if only Al Davis was on Twitter....