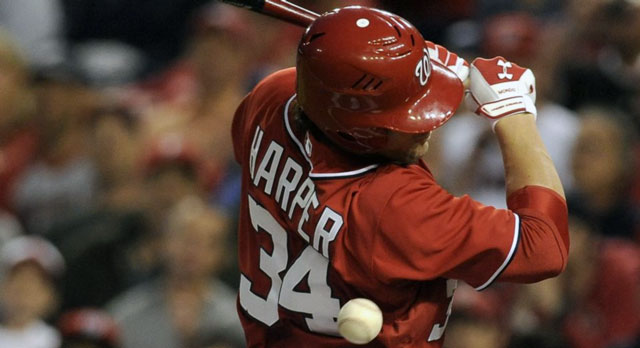 I'm torn on this Bryce Harper kid. On one hand, we could very well be seeing the beginnings of one the best players of our generation. And yet, the "phenom" who was on a Sports Illustrated cover at 16 years old continues to have temper tantrums that have been well documented. Last night, his grumblings about strike zones during the Washington Nationals-Philadelphia Phillies match-up led to him getting hit by a pitch and grabbing first base because of it.
What did the phenom do after the HBP? He stole home. Check out the video below of the steal:
That would normally be the end of the story, but there was a twist after the game. Phillies pitcher Cole Hamels admitted to hitting Harper with the pitch that got him on base. Apparently, he didn't like Harper's attitude either. Here's what he had to say to a reporter from the Philadelphia Inquirer:
I was trying to hit him. I'm not going to deny it. It's something I grew up watching. That's what happened. I'm just trying to continue the old baseball. Some people get away from it. I remember when I was a rookie, the strike zone was really, really small and you didn't say anything. That's the way baseball is. Sometimes the league is protecting certain players. It's that old-school prestigious way of baseball.
Well, congrats to Hamels and Harper for upping the drama in Major League Baseball. Now we all just have to sit nicely and wait for the fine that's about to be dished out.
Side note: my favorite part of the video? Phillies coach Charlie Manuel's reaction. He's like a honey badger, Charlie Manuel just don't care about any of this: