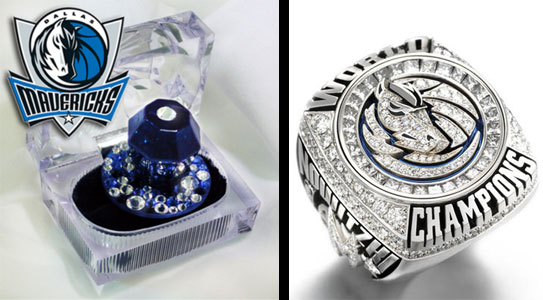 From the "why didn't I see this sooner" file comes the announcement of the Dallas Mavericks NBA Championship rings. No, not the awesome real ring that looks like it's made of solid diamonds, but the one made by Bazooka.
Last June, Mark Cuban joked that he wasn't going to get the Mavericks championship rings. He called the idea of rings "old school" and said he would be updating the tradition. He of course got them the rings, but Bazooka made a genius marketing move by sending the players their own candy version of a championship ring. Here's Bazooka's press release:
Bazooka Candy Brands, the iconic confectionary company and manufacturer of Ring Pops, believes that the Dallas Mavericks should be rewarded for all their hard work and their NBA Finals win, That is why they will be stepping in and saving the day, creating Swarovski-encrusted Ring Pops in the team colors of Blue and White for the team to wear to celebrate their feat.

The Ring Pops will be shipped to the team shortly.
Nice. I don't know if I would keep it or eat it. Now here's another shot of the real ring they won. Feel free to be a little jealous, the thing is awesome.