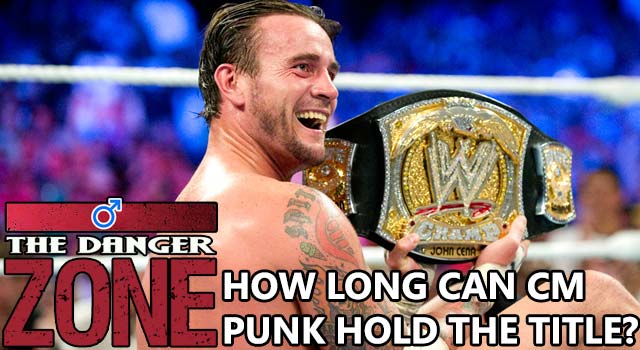 The WWE championship didn't mean a whole lot for a long while. After years of repetitive main events dominated by an aging Triple H, a bland Randy Orton, and a love-him-or-hate-him-and-most-people-over-12-hate-him John Cena, the title had lost its luster. Wrestlemania 28 saw champion CM Punk square off against living legend Chris Jericho in a match that, on paper at least, looked to be a classic.
It was striking how irrelevant the match seemed to the event as a whole.
Triple H vs The Undertaker was billed higher on the card and received more time and fanfare and The Rock vs John Cena closed the show and was the main hook for people buying the event. Fans in attendance, still stung by Daniel Bryan's show-opening loss to Sheamus, were more interested in chanting "YES!" and ginning up for the show's dual main events than they were in watching Punk and Jericho have a solid title match with no strange stipulations or rules. The holder of the WWE title may technically be considered the top guy in the company, but Punk looked like a complete afterthought that night.
Flash forward nine months. Punk and the title have become the focus of every recent episode of Monday Night Raw and the monthly pay per views that they build to. He's held the title for more than a year now, longer than any WWE champion since the 80s, and has never seemed more important. Cena may technically be the face of the WWE but Punk is the straw that stirs the drink these days.
He has to drop the belt eventually. When, though, is an open question. Punk's epic reign has become too important to end it like a typical title run, and it's more likely than not that it ends at one of 2013's biggest events.
Monday Night Raw, January 7, 2013 Punk is scheduled for a tables, ladders, and chairs match with Ryback. No one will watch this episode of Raw because it's on the same night as the BCS title game, so it wouldn't make sense for the WWE to do something as major as taking the title off of Punk when no one is going to see it. Ryback is the hottest new star we've seen in quite some time and will have plenty of title runs. Alas, the first one probably won't be in January.
The Royal Rumble Punk will wrestle The Rock with his title on the line at the 2013 Royal Rumble. This is only about a month away, and the atmosphere will be incredible. Looking at the lights sucks, but if you're going to let someone end a championship run that could go down as one of the greatest ever, you could do a lot worse than The Brahma Bull. That said, can The Rock actually find the time to appear on Raw every week for a couple of months? Keep in mind that he can make more money in two months filming a movie than WWE could pay him in a year.
Wrestlemania 29 No one knows for sure who Punk will face at 'Mania this year, but there are rumors of him going up against The Undertaker in a streak vs title match. It's widely believed that The Undertaker's Wrestlemania winning streak is untouchable, yet ending it could solidify an up-and-coming young star as a legend. Punk's as good a choice as anyone for this honor, although he probably doesn't need it in order to go down as one of the best performers in the company's history. On the other hand, if the roles are reversed and Punk is facing an up-and-coming young guy like Ryback, Dolph Ziggler, or Dean Ambrose, it might make sense to have him lose since it could instantly elevate whoever takes it from him.
Summerslam 2013 It sounds ridiculous, but if Punk can come out of Wrestlemania season while still holding the title, he'll probably be able to hold it until Summerslam in August of 2013. This would put his reign at almost two years, at which point it'll be time for someone new to step in. Whoever Punk faces at the event will probably either beat him or put him in a position in which whoever holds the Money In the Bank briefcase will be able to cash in on him and take the title.