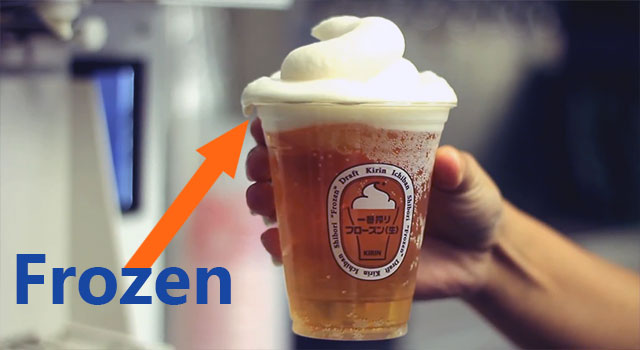 From a company called Kiran comes a new way of enjoying a cold beer on a hot summer night at the ballpark. Well, as long as you're in LA.
The fine folks at Dodger Stadium have just installed beer foam machines that make a lid out of foamy, frozen beer. So now, when you spend $12 on a tiny beer you won't have to worry about it getting warm for up to 30 minutes. Hey, it's still not worth $12, but at least you can enjoy it for a little while longer now.
The first reviews are coming in, and it's a mixed bag. A website called Food Beast says the machine is great at keeping the beers cold:
We put the frozen foam to the test and it did in fact keep our beers pretty cold for a few innings and the full thirty minutes. We didn't test the foam under multiple scenarios, but it seemed to work pretty well in the late afternoon/early evening on a sunny, yet humid, 80+ degree day in Los Angeles.
However, Zagat also did a test, and didn't like the foam so much:
The foam is a lot stiffer than you'd expect, and the best way to get around it, we found, was to poke a hole in it, even if we still got foam on our nose. We thought the consistency would be more like a Frozen Coca-Cola, but then that would just be a beer slushie (mmmmm...beer slushie). Once the foam started to melt — and it does, very slowly — it moved a bit allowing the beer to flow freely. We just hope it's all beer; according to reps, it is, just whipped in a "frozen agitator" machine. It did keep that beer pretty darn cold, though.
Either way, it's a pretty cool innovation. If you want to check it out for yourself, you can take a look at the video below. We'll warn you though, for some reason the video creators decided to use a crying baby at the end of the video for their tagline sound. Why anyone would use a crying baby is beyond us, but the rest of the video showcases the beer machine well.
Enjoy.