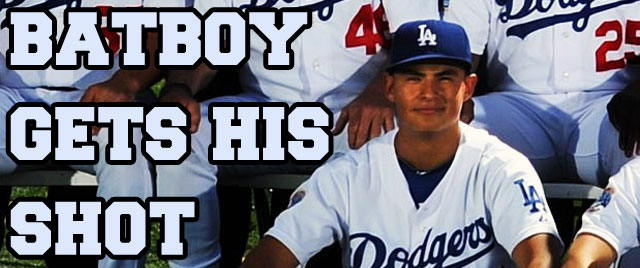 Francisco Herrera is a ballboy for the Los Angeles Dodgers. Soon, he may be known as a player for the Dodgers. It's a long-shot, but Francisco has earned himself a shot at making the team...and making millions in royalties from Disney if they pick up this story as a screenplay.
ESPN.com reported that Francisco got an invite to the Dodgers' open tryout in Arizona last week. But according to ESPN.com, Herrera received an invite to the Dodgers' open tryout in Glendale, Ariz., which was held on Thursday.
"We've signed guys out of our tryout camp every year," said De Jon Watson, the Dodgers assistant general manager for player development. "Last year we found a guy throwing 97 and it was like, 'Yeah, we're going to sign him'" He continued "So yeah, we'll take a look at him. You never know. Guys change, they mature, they grow. You never know until you take a look at him."
Herrera was a shortstop at local Valley College, and started working for the team out of high school. Last year he was helping with Jon Garland's recovery from an injury and was playing catch with him. Garland said he should try out for the team. "He was like, 'Let me talk to De Jon for you. I'll get you the tryout, but if you make it, I get to represent you,'" Herrera said. "I thought he was kidding."
"I don't know much about this kid except that Jon Garland flagged me down in the clubhouse last year," Watson said. "I've seen him down the foul lines, he makes some pretty good catches."
The video below is a Francisco saving some poor kid from getting knocked out with a ball while he was working a game. Hopefully the guy gets a shot, that would be a great story and he seems like a good dude.
[Source - ESPN]