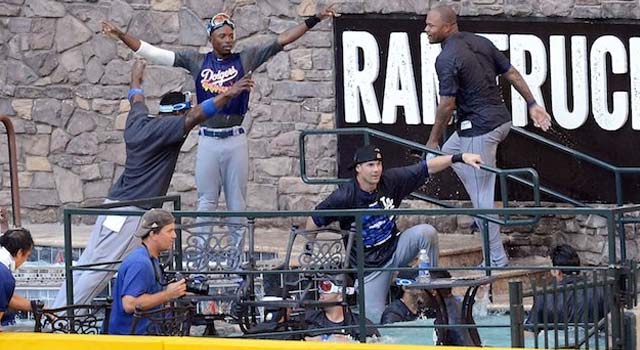 The Los Angeles Dodgers started out this season in a bad place. At one point, it even looked like their coach, Don Mattingly, was on his way out the door. After a huge turn-around, the Dodgers are in the playoffs after clinching the NL West with a win over the Arizona Diamondbacks. They were understandably excited, but they were playing in Arizona, so Diamondbacks management asked the team not to celebrate using the in-ground pool that sits in Chase Fields outfield.
The Dodgers didn't listen.
And it wasn't just one, there were a bunch, including Matt Kemp, Yasiel Puig, Hanley Ramirez, Skip Schumaker, Juan Uribe, Adrian Gonzalez, Kenley Jansen, Michael Young, and more. It was a scene that you would expect from a beer-league softball team, but not from a team in Major League Baseball. But it looked like a lot of fun, so we would have probably joined if we were there.
The D-Backs, fans, and Phoenix media didn't think it was funny though. In fact, D-Backs utility player Willie Bloomquist had some pretty harsh words for the Dodgers:
#DBacks not happy with Dodgers celebrating in Chase Field pool, Willie Bloomquist called it "classless and disrespectful."

— Tyler Emerick (@TylerEmerick) September 19, 2013
Not everyone hated it though, and D-Backs pitcher Brandon McCarthy put a good spin on it:
Celebrating is fun. I don't care how and where you do it. Only thing to care about is what we need to do to celebrate in our pool next year.

— Brandon McCarthy (@BMcCarthy32) September 19, 2013
That's right, whether you like it or not, focus on winning your division and you won't have to worry about things like this happening.
What do you think; Classless or fun? Check out the video below.