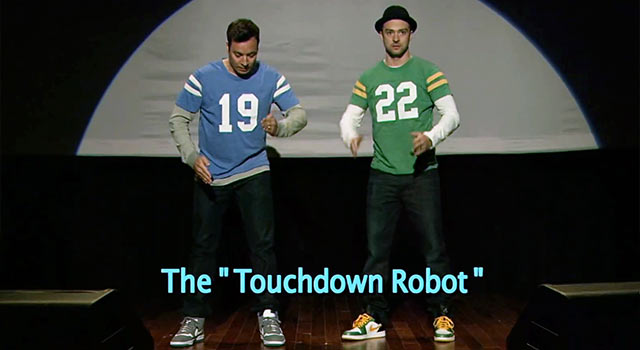 Yes, this has been done before, but we can never get enough creative touchdown celebrations. Especially since they have been all but outlawed by King Goodell.
Last week, Jimmy Fallon and Justin Timberlake came together for an epic dance-off they called the Evolution of End Zone Dancing. They did the classics like the Ickey Shuffle, well-know routines like Ray Lewis' Dirty Bird, and they even threw in some new ones like the Justin Timberlake (in N'Sync). Oh, and there's an Aaron Hernandez joke in there too.
We can't wait to see Jay Cutler and Brandon Marshall re-enact the Love Scene from Ghost. Why them? Because Cutler only knows how to throw to Marshall. Really, that guy is only accurate when Marshall is on the field, so there must be some kind of space/time continuum or gravitational pull thing going on there. It's the only explanation.
Can you tell that I've been burned by Cutler in my fantasy league before? Anyway, check out the video below.