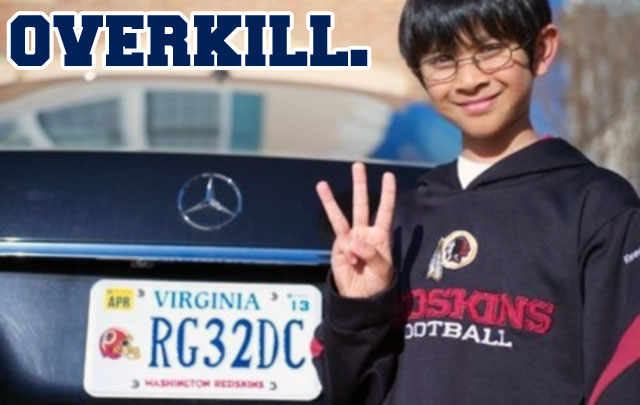 With the NFL draft day quickly approaching, the nut-job fans are starting to come out of hibernation. Our nations capital is no different than any other city, well, except for the fact that they Ditka'd themselves for the 2nd pick this year.
It's widely assumed that the Indianapolis Colts will pick Andrew Luck since they are now without a franchise QB. Most experts (no Mel Kiper this does not include you) say that Luck is the best QB prospect since Peyton Manning. Which means, after their crazy trade for the second overall pick, the Washington Redskins are believed to be picking the 2011 Heisman Trophy Winner. He's an EA Sports poster boy named Robert Griffin III, or RG3 as he's affectionately called by the fans and media.
So über Skins' fans have gone all-out, including this family who already went and had a personalized plate made for their Benz.
Jim Irsay, the owner of the Colts, said recently that they have not yet decided on a player to pick first, and Luck himself said there have been no contract talks with the Colts yet.
Dear Mr. Irsay,

If you're reading this - for the love of all that is holy, please draft RGIII and his Elmo sock collection for Indy just so this family has to spend another day at the DMV.
Sincerely,
Pat