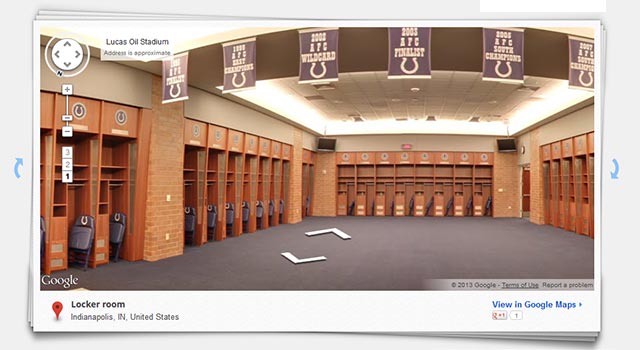 If you're a fan of the Indianapolis Colts, you're probably getting over your anger about this year's playoff loss. Need a quick pick me up? Check out an inside look at the home of your favorite team.
That's right, Google Maps has gone inside of Lucas Oil Stadium and you can now take a virtual 360-degree tour of the home of Peyton Manning Andrew Luck. The tour isn't only for Colts fans though, as most people aren't able to go inside an NFL locker room on a regular basis (like some of our writers).
As part of the virtual tour, you can check out the Colts' locker room, the tunnel that takes you to the field, and the Quarterback, Field, and Loge-Level suites. Maybe someday Google will get around to visiting your favorite stadium, but in the meantime you can check out a few pictures of the pride of the Polian's below and the full Google experience here.