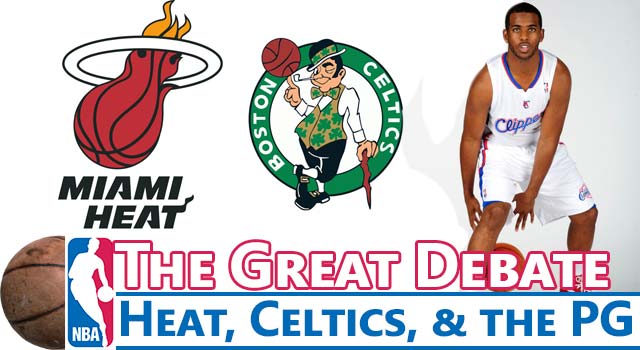 This is a recurring NBA conversation covering current events, history, and views, all from Matt Truck (@BroTruck) and Dan Quarterly (@DanQuarterly).
Matt Truck: The topic de jour is the Miami Heat and their run at the Lakers' historic feat of 33 consecutive wins. I'd like to talk about that a little bit, but consider some broader NBA issues as well.
I've watched a fair amount of Heat games throughout this whole season. One thing I notice about this team this year is how easily they can score the basketball. Year 1 and 2 of the Miami experiment was messy offensively to put it kindly. It was honestly a lot like Cleveland-of-old, with standing around and letting one guy attack. It really wasn't until the Finals last year that the Heat offense as it stands today really started showing up. They're lack of a post up player is concerning, I'll give you that. But I'm not sure that is going to be a huge issue for them in getting out of the East.
The biggest roadblock is arguably the Celtics (sorry Indiana readers). As a Boston detractor, I was honestly so relieved to see Ray Allen leave their squad. He struck the most fear in me out of anyone on their team...yes, that includes Rondo (but more on that later). I think Boston's team is good. But I don't believe that they can win a series with the Heat. You can't really take age out of the equation, but I think Miami's bench is FAR better than it has been, and I have a hard time seen Boston scoring all that easily (although Monday night's game showed that to be a questionable assumption).
If they play in the playoffs, I think Miami wins in 5. I saw someone on a pregame show compare the way this Heat team "feels" is like the 1996 Bulls. I'm not ready to go that far, but I also think that the trailing two-year precedent is a flawed comparison today. This may come back to bite me, but I think Terry, KG, and Pierce are far more bark than bite at this point.
Dan Quarterly: I don't know if the entire Boston Celtics team think they can beat the Heat, but I think enough people involved - all of the important people - are all in on the thought of eliminating the Heat in the playoffs. That is the old school mentality that I know I'll miss once the league's 30-somethings retire, and that's the mentality that could lead the Celtics past Miami.
Paul Pierce, Kevin Garnett, and Jason Terry have all called out LeBron James and won at one point (or in Pierce's case multiple times) or another both emotionally and statistically. Now that Phil Jackson is out of the Association, Doc Rivers is probably the best leader of men in the NBA coaching ranks (followed by his protege Thibs). And a few of the young guys fit the mold of what is needed to stop the Heat. If Doc and his three vets can lead and beat it in the young players' heads that they CAN win, they will win barring a Battier/Allen/Chalmers shooting barrage.
Look at Monday's battle -- LeBron did score 37 and hit the games deciding bucket. But Mario Chalmers was perfect on his three point attempts including two HUGE ones inside of 5 minutes. The Heat did feast at the rim on LeBron James' drives and backdoor cuts in the fourth quarter due to KG's absence. But the Boston Celtics, without their leader (KG, not Rondo), outplayed Miami. Boston can keep each game close, so I think Boston can win a series against Miami.

MT: These points are well taken. I honestly do hope for another Celtics/Heat Eastern Conference Finals. Unfortunately, I'm not sure that we get there because of where matchups may fall. I concede the points you made -- but I think I take the other side. Miami had just about everything go wrong for them in Boston earlier this week (and looked surprisingly confused midway through the fourth quarter at switching the high screen and roll with Jeff Green which torched them again and again), yet they turned it on for 3-4 defensive possessions at different points to narrow the gap. Last season was great playoff drama; I'm starting to get the feeling that this year may be the Heat's beating everyone else into submission, at least in the Eastern Conference.
DQ: Boston's leadership is so evident every time you watch them. That is what makes the Celtics still competitive. Half of their roster is too old, the other half too raw and inexperienced. They've lost their offensive leader, played without their defensive leader, and their third big and possibly best rebounder is out for the year with a bad back. The Boston Celtics should have blown up their roster and kicked it into rebuild mode 13 months ago. But they didn't. And their veterans and coach refuse to think that that was by mistake.
MT: That brings up an interesting question I have as to what happens to this franchise after Pierce and KG are done. I do not believe that this team can win a title with Rondo as the "leader". When they did win in the '07-'08 season, that was clearly not his team. Last year against Miami, they got awfully close to the Finals again, but even if they had beaten Miami, OKC was probably a horrendous matchup.
From what we know, Rondo's game and locker room personality are both extremely unique. We've seen him now in two situations: strong veteran leadership with high expectations, and best player on the team with less expectations. Support or refute this statement: "Rondo is the final piece for a team who is one player away from a title."
DQ: I can't imagine the Celtics without PP and/or KG. And I do think it will take Danny Ainge a little bit of time, whether it be a year or two or five, to get over losing their crunch-time scorer/catalyst and the heartbeat of the team and leader of the locker room. But that's for another day. I do not think the Celtics can win with Rajon Rondo as their best player either. That is nothing against Rondo, I promise you that. Rather, it is the ineffectiveness of the point guard position in today's NBA.
Let me put it this way: I don't think the LA Clippers are title contenders despite having a rising star (Blake Griffin), veteran leadership (Chauncey Billups), and a deep bench. On top of all of that, they have the hands down best point guard in the Association and perhaps the fiercest competitor in the league today next to Kobe Bean Bryant and the aforementioned Paul Pierce. And if the Clippers, with a point guard as their best player (and a top 5 player in the NBA at that), can't win a title, how could a Rondo-led squad?
Running backs in the NFL are the best comparison to point guards in the NBA today: while still very important to the strategy and flow of the game, they are no longer a necessity. The game has been tailored too much to accommodate quarterbacks and (what is known in the NBA as) slashers.

MT: The running back comparison is great. I think this has been true for a really long time. Just look at a list of the NBA champions. I have to go back to the early 1990s to find a team where their best player was the point guard (in 2004 a case could be made for Chauncey Billups, though). So much is made of how many great point guards are in the league today, and there's a ton of talent for sure. The physical disadvantage has to matter at some point, though, if he's your go to guy.
With the slasher mentality that most scorers have today, it seems that what you most need from that position is a player athletic enough to contain the opposing point guard, a good enough knockdown shooter to make defenses honest, and smart enough to know when to get out of the way. That's why I honestly love Mario Chalmers. I thought he'd be great coming out of Kansas and I think he's the perfect type of guard you need for a team with great slashers. Sure, having James and Wade covers a lot, but isn't that the point of team construction?
The Clippers are an interesting case. With the Clips, Paul is the best asset they have, but Griffin isn't yet a polished post presence. Is that a winning combination? Perhaps -- but a lot has to go right. In the playoffs, I think it's a no brainer that the Spurs can still outclass them with a healthy Parker. Parker's their best player, but it sure helps in crunch time to be able to drop the ball off at the post clinic.
DQ: Chris Paul reminds me a lot of Adrian Peterson. They are both top 3 to 5 players in their respective leagues, both are able to break the game open at any time, and both can win you a significant amount of games. But neither are going to carry the load for their team all the way to a championship. It's just not possible anymore unless circumstances are absolutely perfect. Peterson was the best player in football last yearand did enough for his mediocre team to clinch a playoff birth, but then he/they played a team with more talent and were able to focus everything on him. With that, Adrian Peterson's team lost.
Chris Paul is the same way. He can win you 17 straight games, as he did already this season, and he can perhaps win you a playoff series or two, but he can't win you the whole thing. His stature doesn't enable him to effectively defend the other teams best player and his lack of any other clutch scorer puts him behind the eight ball in crunch time to score with the oppositions two best players double teaming him (and not even worrying about DeAndre Jordan).
Adrian Peterson is Chris Paul. NFL running backs are NBA point guards. They are important. But they are not enough, no matter how talented they are. Rondo is not as good as Chris Paul.
MT: Let's get to more of the West. Am I crazy when I watch OKC that I think "Impressive talent, but very beatable. The 'gear' I'm watching is what they are"? Their 1 and 2 is so impressive with Durant and Westbrook, but I'm not as high on Ibaka and I think the rest of their squad isn't really championship caliber. Plus, if I'm right and it's Miami that's standing in their way, unfortunately LeBron treats KD like his little brother - sees the talent, but get in line when the beans are on the table. They've trained together in the offseason, and part of me wonders if at Durant's age that's a mistake for him early on in his career.
DQ: I feel like the Harden trade cheated us as NBA fans. I wrote on my old blog the night that it happened that it was inevitable and both teams won. I believed that because Harden wanted money and it wasn't that OKC was unwilling, but unable. But why were they unable? Look at the contracts of Ibaka and Perkins (and Westbrook, really).

The Thunder traded Jeff Green for Perk and extended Perk for between $8M and $9M a year. Then this summer they extended Ibaka for an average of about $12M a year. Due largely to those two extensions, James Harden was unable to receive the max deal he wanted from OKC.
(Can we take a minute and envision an OKC eight-man rotation of Westbrook, Sefolosha, Durant, Green, Ibaka, Harden, Collison, Jackson/Maynor? I know that paying all of those young stars would be near impossible, but I'm a believer that not all athletes crave max dollar and/or living in a luxury city so maybe some would sacrifice. Now that's a team that could run with the Heat/Nuggets or pace it with the Spurs/Celtics.)
Now that that's off my chest, I don't consider OKC real threat at a title either for some reason. I think four teams could win a 7 game series against any other team (in this order): Miami, San Antonio, Denver, Boston. OKC and Indiana are close. I'm not a Lob City believer, for reasons noted earlier.
MT: I think the basic takeaway from your top 6 teams above is that the breadth of talent at the top of the league is super strong. Last year's playoffs were phenomenal, and I hope that it's the same this year. I think the West will be unreal, but my feelings on the East keep coming back to Miami rolling through. I'm hoping I'm wrong for the sake of pure basketball volume. #CAN'TWAIT
Round two of the debate is over. Check out the other debates below:

Round One (Jordan vs. Everyone)