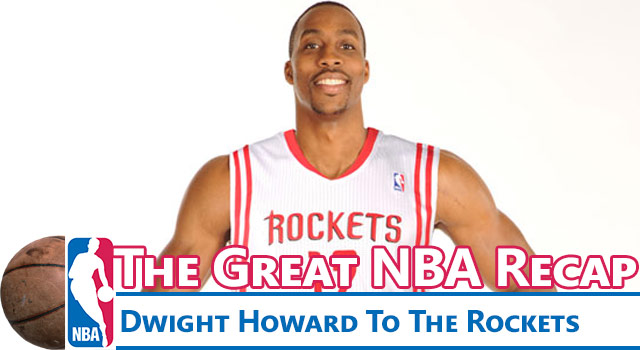 Last year, with the arrival of James Harden, the Houston Rockets became my go-to "NBA League Pass" team (in other words, I'd watch as many of their games as I could via the premium cable subscription). Granted, part of my love for them stemmed from seeing them play live in Cleveland (it's hard not to have an affinity for a team when you see the chemistry and team interaction live), but that's not the only reason.
What I thought was special about the Rockets last year was that they were a young group (oldest player was Carlos Delfino at start of year, who had 7 years of experience) with clear talent that needed to learn to put it together. They did, capturing the 8th seed in the West despite defense that seemed lackluster and a relatively loose offensive scheme. There's something really special about seeing a young team grow organically.
The pieces were there for a really solid base to build off of with Harden, Lin, Parsons, Asik, and Patrick Patterson (at the time; later dealt mid-season), plus some solid rotation players (Motiejunas, Greg Smith, Defino, Tony Douglas). Harden, who the Thunder dealt in a now infamous trade after their loss to the Heat in the 2012 NBA Finals, is an offensive savant who showed in the first week of the season that nearly everyone in the league (besides Daryl Morey) underestimated his star potential. Chandler Parsons is probably my favorite young wing player in the Association today, with an unbelievably fun game to watch (sharing the ball well, knockdown shooter, good defender). Jeremy Lin is a good story who can get hot pretty quickly and a sufficient point guard for their offense. Omer Asik is a stellar defensive/rebounding big, albeit unpolished offensively. Suffice it to say that the Rockets were really building something nice through both signings and the draft, and I as a fan of the team was really enjoying the process.
By process, I mean that it seems like a team should have a natural progression: moving from losing, to losing but competing, then from average record to consistent winner, then to title contender. I'm not above inorganic growth, nor should any fan of a team be. I feel, though, that the Rockets' acquisition of Dwight Howard is causing them to skip some portion of the progression chart.
Dwight Howard's decision to join the Rockets immediately brings a defensive identity and a more polished big on the block that should free the floor up a bit more for the run and gun style Houston plays, but also allow Kevin McHale to bring a serviceable offensive structure. In my opinion, the team goes from early round out to legitimate Western Conference contenders, with the caveat that Howard is now fully healthy.

I also think that this trade modifies the power structure in the West. Unwittingly, it almost seems that the Thunder's front office aided in sowing the seeds of its own demise. With Howard as a Rocket, the Spurs re-loading their ancillary pieces this offseason, and Memphis not getting any smaller, all of a sudden the Thunder have a huge problem in that they have too much money tied up in Kendrick Perkins and Serge Ibaka. While Durant and Westbrook have a significant outside edge over most of the league, losing Harden and now Kevin Martin means the team has gotten worse while others have improved. I once thought that the Thunder were going to be perennial West favorites. I'm now doubting that conclusion.
It's only July 7th as of this writing, but I cannot wait for where this goes. That being said, I do feel conflicted. As a fan, you like to see a team you root for become a contender, but do you like to see it done this way? I'm really not sure. Our own Dan Quarterly has talked about the pain of being a fan of a team who loses their star to a more desirable location. How does it feel now sitting on this side of things, as a team I enjoyed watching build and improve jumped up in potential due to one signing? I guess I can justify it by saying that a star went for a "smaller" market team (though I'm not sure that moving from one of the largest cities in the US to another super large city counts) where they were "building" something special.
As a LeBron fan, too, I'm surprised at how conflicted I feel about this. Maybe I care too much, but I guess that's really what it means to be a fan. Here's to seeing how it plays out.