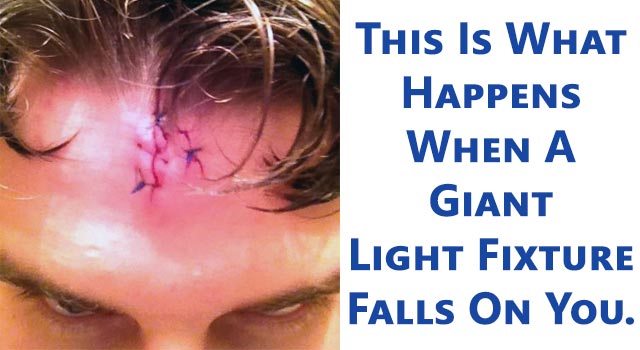 In a yearly tradition, Madison High School in South Dakota hosts the "Madison Square Garden" tournament. The wrestling event is known for the capacity crowds, loud music, glow sticks, stat keepers in prom dresses, and a giant light that hangs over the mat.
Unfortunately for wrestler Michael McComish, the spotlight fell on him. McComish was in a referee's position with his hands and knees on the center of the mat when the light fell down from the ceiling. The other wrestlers and referees scrambled to lift the light off of him and McComish received medical attention at the scene.
Afterwards, McComish tweeted that he was fine and just needed a few stitches. He also tweeted the picture you see above, and didn't miss a day of school. Like a boss.
Check out the video below.
[Source - Post Chronicle]