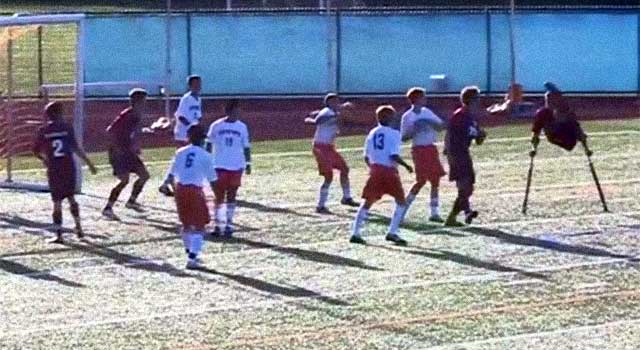 I am still not convinced soccer is a real sport, but rather something you play in gym class or recess (Editor's Note: You can send Pat an angry email for that comment here). To me it's quite boring and there is definitely not enough action and hitting for my taste. What I am convinced of is that Nico Calabria out of Carlisle High School in Concordia, MA is a much better player then I ever would be. Nico was born with one leg and shows that it won't stop him competing for his high school soccer team.
Check out some info about Nico from the YouTube page this video was posted on:
Senior Forward Nico Calabria, #13, scores on a corner for Concord-Carlisle Regional High School in Concord, MA. Nico was born with one leg and in addition to playing for CCHS, is currently a member of the US Amputee National Team http://www.ampsoccer.org

Nico and his amputee teammates are currently working to raise the funds needed to train, to equip themselves and to qualify for the 2014 Amputee Soccer World Cup. Donate today
http://www.ampsoccer.org/contribute.htm
Go ahead and donate away Bro Council readers. We're always looking for good causes to give to and this is definitely one of them.
Check out the video below:
[Source - Carlislevideo.com]