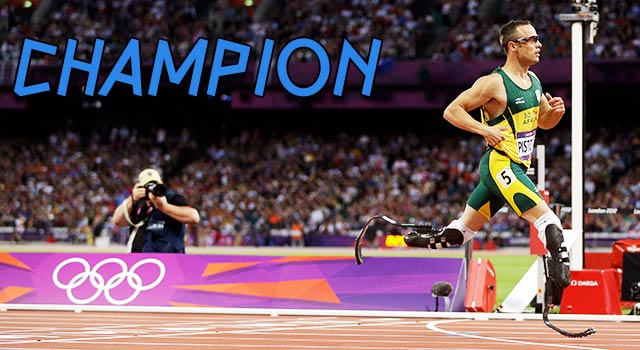 The Summer Games in London wrapped up last night, and just like any Olympic games we, as fans, take away special memories. It might be the thrill of seeing new world records, a particular athletes performance, or just your favorite event on the grandest stage of all. This years games are no different - Michael Phelps now has 22 lifetime medals, Usain Bolt running 800 meters in just over 75 seconds, the performances of the now 3-time gold medal winning US women's beach volleyball team, and Gabby Douglas becoming the First African American to win the women's overall gold in gymnastics are all all memories to be cherished. There is one that I can not over look though, and that is South Africa's Oscar Pistorius. Oscar competes in the track and field portions of the games and specializes in the 400m race, what makes him special is that he is a double amputee. Let me say that again - a double amputee! And competed on the worlds biggest stage against the best able-bodied athletes the world has to offer.
Oscar was born in 1986 and doctors found that both of his legs were missing the fibula - the long bone that runs outside of the leg from the knee to the ankle. His parents consultated with doctors and decided that the best course of action was to have surgery done which would remove his legs below the knees. The choice was made, and within 6 months he had his first prosthetics and was off and running. Growing up like any kid, Oscar was active in all kinds of sports - water polo, cricket, boxing, and rugby. It was in rugby that he suffered a severe knee injury and the doctors advised him that running would be a great part of his recovery. Oscar never looked back.
Oscars career as a para-athlete took off in Beijing in 2008 where he won gold in the 100m, 200m, and 400m events. During this time, the governing body of track and field - the IAFF - had ruled that his special prosthetics gave him an advantage over other athletes saying that he was using less energy than able body runners. His lawyers fought this decision in the courts and eventually the ruling was overturned, allowing him to run in competitions with said able bodied athletes. He promptly set to work training, and made the national team for his home country of South Africa.
In London, he made the semifinals of the individual 400m and ran the anchor leg of the 4 x 400m relay finals. While he didn't win any medals over the two weeks in London, it doesn't take away his status of a champion. Here's a man who just showed the world that he is no different than any one else, and he would not allow his struggles to overcome him, he simply overcame his struggles. In our book he is the real champion of these games, and the one thing I will remember best about the London Games.
Oscar is set to defend his titles at the Para Olympics in London next, you can follow his career at oscarpistorius.com and give him a follow on twitter at @oscarpistorius.