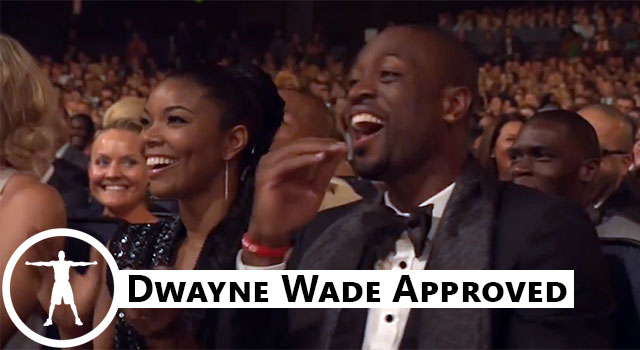 The ESPY awards just happened, and despite the fact that no one really cares about the awards that are handed out at the event, ESPN landed Jon Hamm of Mad Men to emcee. Hamm had a pretty great nine-minute opening monologue, but the best part was when he started talking to the crowd at Nokia Theatre in Los Angeles about Dwight Howard's exit from LA.
Hamm started saying that "Dwight Howard recently announced he was leaving the Lakers to play..." when he was cutoff by a chorus of boos from the crowd. The rest of the line included "so I guess it looks like he finally found a way to help the Lakers win," and he quickly won back the crowd. He also showed a highlight reel featuring Tina Turner's "You're Simply The Best" that needs to be seen to be fully appreciated, and we have that for you below.
Here are the top 5 NBA related Hamm quotes from the rest of the monologue:
On Ray Allen:"This is the 20th anniversary of the ESPYs - 20 years - two decades. That means when the very first ESPYs aired, Ray Allen was only 35 years old."
On the NBA's flopping problem (and The Lone Ranger): "Chris Bosh recently got fined $5,000 for flopping, while Johnny Depp just got paid $20 million for flopping."
On LeBron's Hairline: "The NBA Finals had absolutely everything — clutch shooting, edge-of-your-seat games and every single stage of male pattern baldness. It was a clinic. An absolute clinic."
On Heat fans leaving early from Game 6: "Are there any Miami Heat fans here, or did they leave already? Is that why Bosh isn't here? Is he chasing them down?"
On Ginobli's travels: "It's not all bad for the Spurs, though. Manu Ginobili is going to take some time off and do some traveling. I'm not sure if he'll get called for it, but he's going to do it anyway."
Nice Job, Hamm. Check out the video of the Dwight Howard bit below.