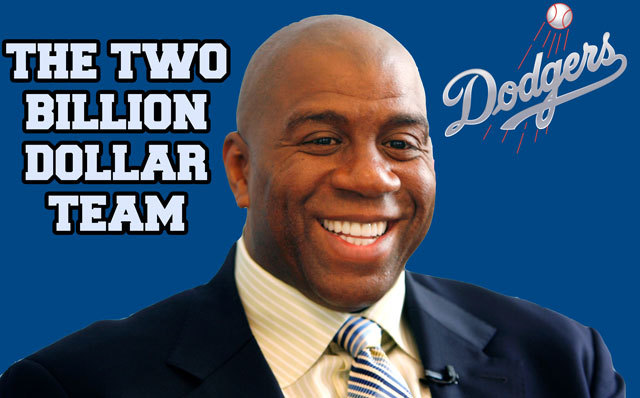 Although most of the money wasn't from him, Magic Johnson is still the face of this purchase and the new face of the Los Angeles Dodgers.
The Dodgers were up for auction, and Magic's group bought them...for over $2 billion. Now can he do with the Dodgers what he did with the Lakers in the 80's? He's Magic Johnson. He's LA through and through, and has proven he can win. Plus, he's everything that Frank McCourt wasn't.
"I am thrilled to be part of the historic Dodger franchise," said Johnson after the purchase, "and intend to build on the fantastic foundation laid by Frank McCourt as we drive the Dodgers back to the front page of the sports section in our wonderful community of Los Angeles." That shows Magic's level of class, as he even says something nice about the former owner.
The largest price ever paid for a professional US sports team was $1.1 billion that Steve Ross paid for the Miami Dolphins three years ago. This bid blew that away with an all-cash, $2.15 billion deal. McCourt, the former owner, bought the team for $420 million in 2004 and the mismanaged it into the ground.
There is a great team of investors around Magic, but he is clearly the headliner here. Congratulations Magic! Oh, and if you're looking for a first baseman Jose Canseco has already offered up his services: