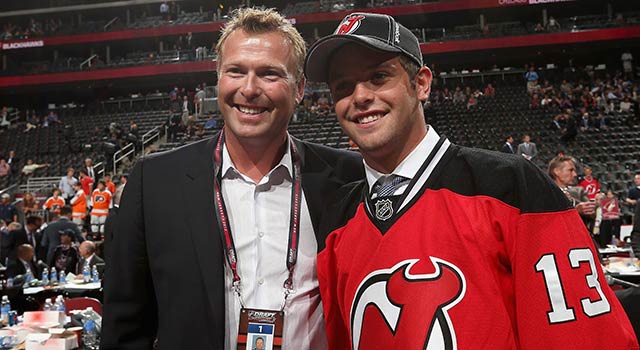 Martin Brodeur has done it all in the NHL. He has been a first-round draft pick, a Stanley Cup Champion, the NHL's all-time leader in wins, and has only played for the one team on the New Jersey Devils. Now, he decided to go above and beyond the run of the mill hall of fame accomplishments and will play with his son in training camp this year. His son Anthony was drafted in the 7th round of the NHL draft this weekend, and the Devils allowed the older Brodeur to announce the selection.
Overall, Marty Brodeur had quite a week. First, the 41-year old goalie was named the fan voted winner of the cover spot for EA Sports NHL 14, then he announced his son's draft pick, and the draft was held at the Prudential Center which is the New Jersey Devils home arena. Not bad for a guy that was the second goalie selected in the 1990 NHL Draft.
Here's a toast to Trevor Kidd, the goalie that was selected before Brodeur; you didn't do much in your NHL career, but since the Calgary Flames picked you instead of Brodeur, you allowed this to happen. Thanks for the memories, Kidd.
Check out the video below.