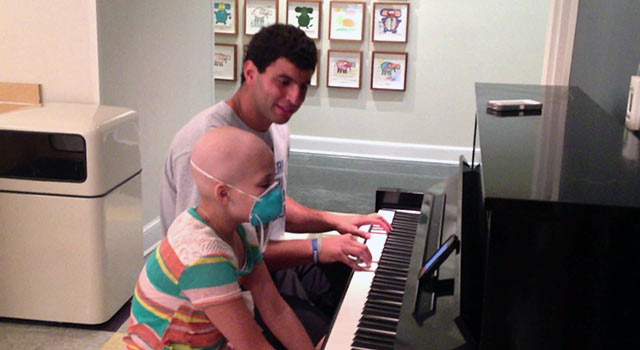 Jacob Karam is the quarterback for the Memphis Tigers football team, and he was recently at St. Jude Children's Hospital doing some volunteering. Jacob also plays piano, and he ended up playing with some of the kids including ‪Dawn Howe's eleven year old daughter Breanna, who is currently battling leukemia at St. Jude. It's been a tough time for Breanna, but that didn't stop her from singing her heart out with Jacob.
While Karam played the piano, Breanna sang an emotional version of Jessie J's single "Price Tag."
What makes this even better is that after Karam left, no one outside of the hospital knew that he was there; at least until until Breanna's family posted the video to YouTube. Here's what Breanna's mom had to say:
This just made my night. QB from University of Memphis Football team came by to visit. He was playing the piano for the kids.. Well my child had to be the one singing to all of his songs. She didn't want to stop... This was one of the 10 songs she sang with him. I hope next time she won't have to wear the mask. We even got invited to watch a game :)
The assistant athletic director at the University of Memphis, Ron Mears, is responsible for the PR publicity for the college football team and he only saw the video after a friend showed it to him. Even Breanna's mom didn't know that he was the starting QB for a Division I NCAA team.
"It's not like he was sitting there bragging about football," said Bertucci. When Karam was leaving, he said he wanted to give her family tickets to a UM football game and that was the first time he had mentioned anything about playing.
"Oh, will Bree be able to see you play?," said Bertucci. Karam answered with a simple "yes" and a smile. Bertucci then went home to Google him to see what position he played.
Karam may not make the NFL, but he's an all-pro in life. Check out the video below to see some of the performance.