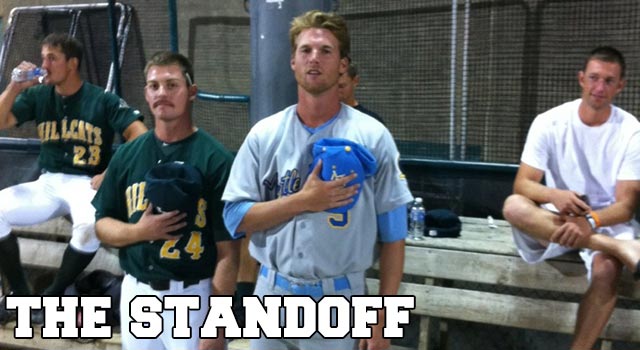 One thing I love about baseball is the minor leagues and the all-around fun they have. There is the sometimes weird food combos like the Twinkie Dog to the new standard in gluttony. Plus, there is the outlandish and goofy promotions like the Altoona Curve's "Awful Night" where they encourage fans to have a, well, awful night.
But sometimes you don't even need the promotions department involved to make something memorable. According to the cryptic tweet below from the Myrtle Beach Pelicans (the single A affiliate of the Texas Rangers), Pelicans player Ben Henry was in a "stand off" with Lynchburg Hillcat Matt Chaffee. The picture shows the ground crew tending to the field after the game had ended, but Henry still holding his ground.
Bullpen fun...game over but Ben Henry and Matt Chaffee (LYN) still in standoff...been going since the national anthem twitter.com/Pelicanbasebal…

— MyrtleBeachPelicans (@Pelicanbaseball) June 26, 2012
Here's the scoop:
The "standoff" is a Carolina league favorite. Henry said after the game that he "saw a YouTube video of a rain delay" in which two teams had a standoff decided that they could do it as well. The teams in the video just stood. Yep, that's the primary rule.
For the Pelicans games, the relievers stay standing until the last person gives up. Sunday's game in Lynchburg featured one of these standoffs. During Monday's game, they took the contest to a whole new level. Ben Henry was still standing long after the game's last out.
Teammates fed Henry with their portion of the post game snack, fans took pictures, and the grounds crew drove Henry around the field all while he was at full salute. The Pelicans went so far as to set up transportation for Henry to get to the team hotel if it went that long. Finally though, a truce occurred. Three hours and twenty two minutes after it began, the challenge ended.
Well done minor-leaguers. And congratulations to Matt Chaffee for that awesome mustache. Maybe you should try out for the Beard Team USA Championships.