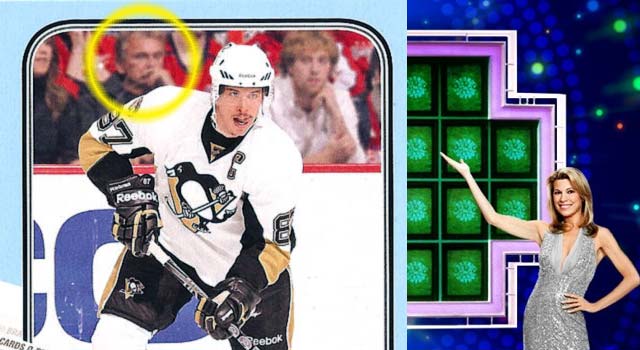 It's been a few years since the O-Pee-Chee hockey cards for the 2011-2012 series were released, but it wasn't until recently that someone noticed a familiar face in Sidney Crosby's card. Just over Crosby's right shoulder is the unmistakable face of "Wheel of Fortune" host Pat Sajak; a detail that went overlooked until Sajak himself noticed it.
And Pat sajak apparently doesn't like Sidney Crosby and the Pittsburgh Penguins:
I can't believe that Sidney Crosby managed to squeeze himself onto my hockey card. Notice how he positioned his body in an attempt to block me out completely. What's with that, eh?
Yes, that's a real quote from Sajak - including the "eh."
Apparently, Sajak is a huge Washington Capitals fan and has owned front-row seats at the Verizon Center for the past few seasons; so the odds of him photobombing another hockey card in the future are probably pretty good. Check out the full card image below.