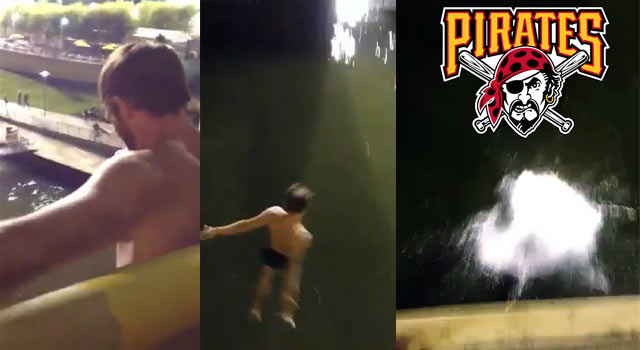 The Pittsburgh Pirates won their first post-season game in 21 years last night and the players, coaches, and the entire city couldn't help but be excited. 21 years is a long time to have to deal with losing so, with apologies to Cubs and Browns fans, it was great to see the big win.
One fan in particular was watching the game from the Roberto Clemente Bridge outside of PNC Park. His name is Dean Pasztor, and he decided to celebrate by jumping off the bridge and landing in the Allegheny River after a 40-foot drop.
The good news for Pasztor is two-fold. One, he survived the fall into the chilly river below. And two, police officers didn't seem to care that he jumped. He even felt good enough after the jump to Tweet about it:
#clementebridge #jumper #thirdeyeblind #deanpasztor @bastarddpasztor pic.twitter.com/FY3gNhx6qn

— Spumoni (@bastarddpasztor) October 2, 2013
Although this may seem extreme, this is a big upgrade for Pirates fans. For the last 21 years, many of them felt like jumping off the US Steel Tower.
Check out the video of the jump below.