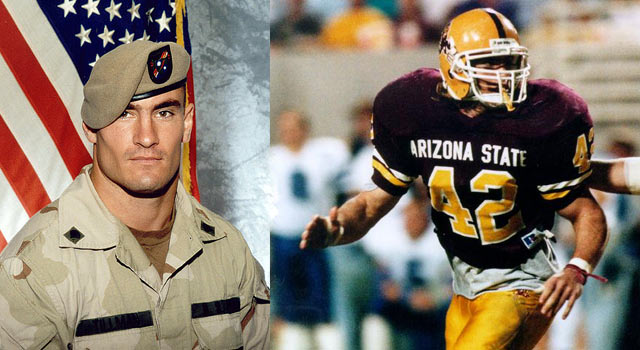 Arizona State has found another way to pay tribute to their favorite son, Pat Tillman, who left his NFL career to enlist in the United States Army during the aftermath of the September 11 attacks. He joined the Army Rangers and served several tours in combat before he died in the mountains of Afghanistan.
There are, of course, #42 jerseys dotting the stadium to honor the number that Tillman wore in his playing days at ASU, but this new tribute is definitely the finest. Now during every home game, Tillman will lead the ASU football team out on the field.
This awaits the players leading to the field. Tillman leading the team out every game. #chills#amazing#inspiringpic.twitter.com/K4TZaK5O3M

— SunDevilEquipment (@SunDevilEquip) September 4, 2013
Although the material looks like it's just a simple mesh screen, the symbolism behind it is creative, powerful, and inspiring. Imagine yourself in that hallway before a game with the crowd roaring, and try not to get chills.
The tunnel leading to the field has been named "Tillman Tunnel" as well.

Nice work, Arizona State.