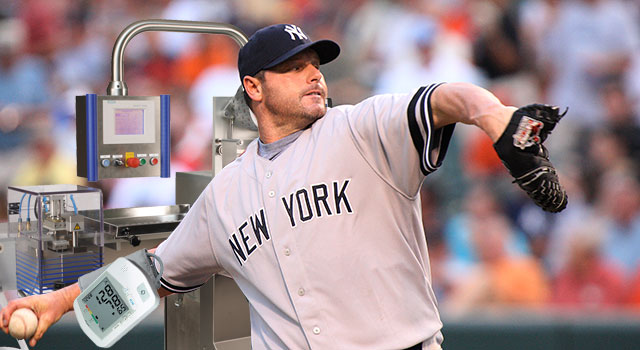 Roger Clemens is 50 years old, and he's once again a starting pitcher in baseball. It's not the big leagues, but the Sugar Land Skeeters of the independent Atlantic League now have a former 7-time Cy Young winner on their squad. ''His fastball was clocked at 87 miles per hour; all of his pitches were working,'' said Randy Hendricks, Clemens's agent. ''He threw a three-inning simulated game after an extensive workout warm-up.''
Apparently Clemens and Gary Gaetti, another former MLB player, have been talking about this for a while according to Clemens' agent. What his agent didn't release was the salary, which I'm pretty sure will be won't add much to the $160 million he earned throughout his career already. Who knows though, maybe the Sugar Land Skeeters are the New York Yankees of Atlantic League?
The last time he pitched, Clemens went 6-6 in 18 games and had a 4.18 ERA that season. He was 45 years old.
The Skeeters also have former MLB pitchers Tim Redding and Scott Kazmir on the roster as well as outfielder Jason Lane. Lane and Clemens played together for the Houston Astros in 2005.
The big news here is that Clemens is eligible for Hall of Fame voting for the first time this fall. If he ends up on a major league roster at some point, that vote would be delayed for five years. Interesting timing, considering that he has the cloud of performance enhancing drugs over his head now. In five years, that may not be as big a detriment to his Hall of Fame chances, and this would be a good move to help his chances. Interesting indeed, Clemens!
If you live in Sugar Land or watch ESPN SportsCenter 12 times a day, look for Clemens news conference today on tv. If you're a Skeeters fan, feel free to send some pictures from his debut.