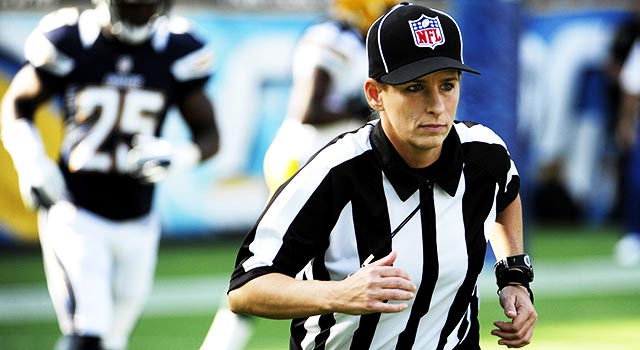 Over here at Bro Council headquarters, we couldn't see the Chargers - Packers game on Thursday night since a thunderstorm and falling tree quite literally blacked out all sports news until this morning. So if you're in our area, you may have missed this story. Even if you saw it, it's worth another read:
Shannon Eastin, a 42-year-old from Arizona and a replacement referee during the current lockout, was the first woman to officiate an NFL game.
She's a 16-year veteran of officiating in the Mid-Eastern Athletic Conference - a league so random I had to Google what schools were actually in it, but she has done some truly awesome things. After last night's game, she's headed for the Pro Football Hall of Fame in Canton, she's also competed in the World Series of Poker, and owns a company called SE Sports Officiating, where she trains people to become officials in football and basketball.
She wasn't involved in many plays until late in the game, but she still got the stamp of approval from Chargers coach Norv Turner who said "She was confident and in control."
Mike McCarthy, the coach of the Packers, didn't pay much attention but liked her anyway. "I thought she did a good job of communicating," said McCarthy. "I was focused on the Packers, but there was communication before the game."
Congrats, Shannon.